A simple scrape or scratch can turn into so much more with the threat of MRSA lurking behind every corner. Daycare centers, gyms, playgrounds and classrooms are breeding grounds for germs and bacteria. These are the places our children visit on a regular basis so we have to keep them safe.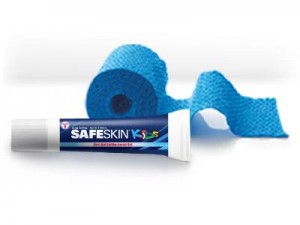 SAFESKIN* Kids Antibacterial Gel is the first of its kind in a topical prevention to MRSA. MRSA is a highly contagious and antibiotic-resistant staph bacterial infection that affects many children. It is contracted from skin to skin contact and can present as sores on the body.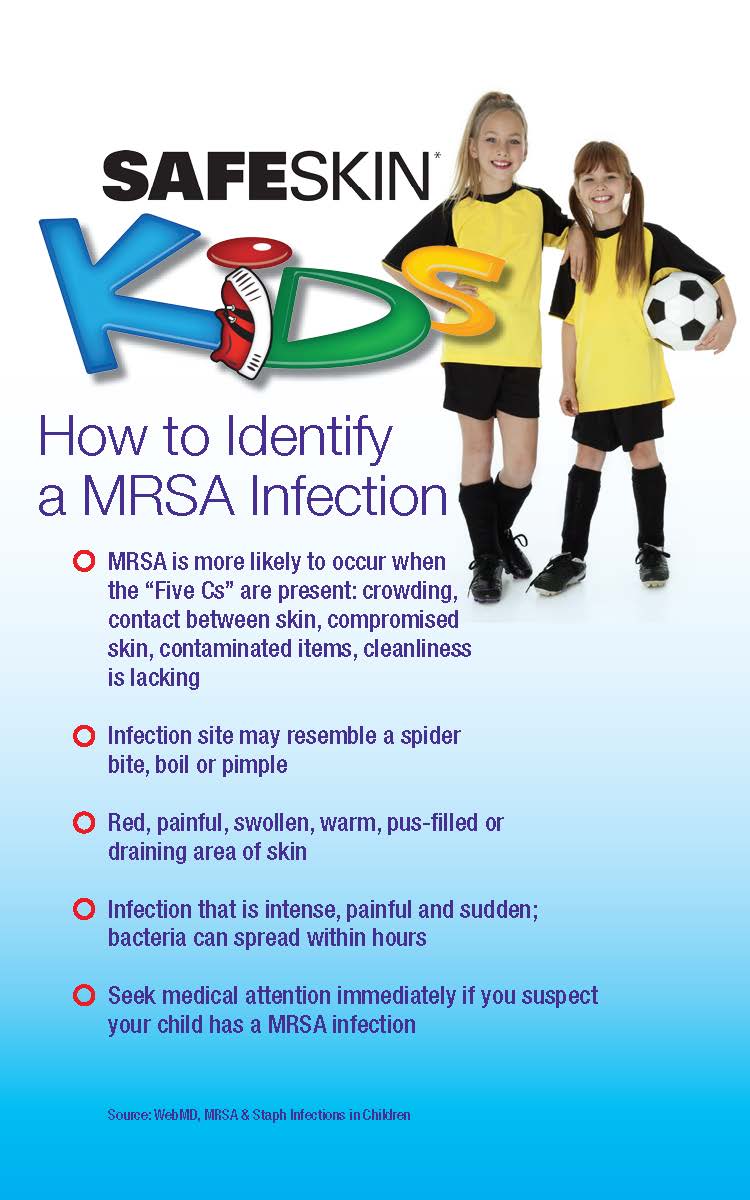 Shaun has recently started football practice. Each day him and 25 other kids are barreling over each other in insect riddled grass for 3 hours. He comes home each day sore, tired, sweaty and often scratched up. I've worried about things like athletes foot and ticks but what about MRSA. What if he's up against someone else who is carrying the bacteria. How should I be protecting him?
A few months back I burned myself doing a simple craft. It was a small wound but one that came with lots of pain and a long healing process. I worried about the scarring and possiblity of infection. I was prescribed a pricey ointment. SAFESKIN* Kids Antibacterial Gel is an inexpensive, antibiotic free, easy to apply gel than can get tossed in his equipment bag and used whenever he comes off the field banged and bruised. SAFESKIN* Kids Antibacterial Gel is a long lasting protective barrier on burns, cuts, scrapes and bug bites. School starts in just a few weeks, I can have this handy for when they come home complaining of the newest battle scar from the playground.
Buy SAFESKIN* Kids Antibacterial Gel from select Walgreens stores.  Click the coupon below for a special $1.00 off the already low price.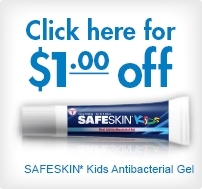 Enter to win a $100 Walgreens Stores Gift Card from SAFESKIN* Kids Antibacterial Gel. Tell me some of your health and safety fears when your children are at school, on the playground or on the field.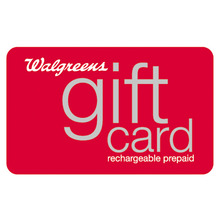 EXTRA ENTRIES:
To receive these extra opportunities for entries, you must fulfill the first REQUIRED entry above. Please note the changes to the entries and frequency, entries that don't follow rules may be disregarded/ignored/deleted.
Your entries must follow the rules or they won't be eligible for prizes. This contest ends 11:59 pm, Friday, August 31, 2012. The winners will be emailed and will have 24 hours to claim their prize. This contest is open to Continental US residents only. For complete rules please read our blog contest rules page.
I received compensation from Kimberly-Clark Professional in the form of a gift card and product samples to participate in this campaign promoting the SAFESKIN* Kids Antibacterial Gel. In addition, Kimberly-Clark Professional provided the gift card I am using as the prize in my promotion.