We were provided a laptop for review but all opinions are our own!!!
Back to school in our house means more than new sneakers and pencils. With one entering her senior year of high school we're also thinking about technology.  Sabreena is looking at a career in Architectural Engineering so she's going into her 3rd year of Computer Aided Design, software that helps with creation and modification in manufacturing or industrial design.
This year she's going to be bringing the software home to work on projects outside the classroom and needs the right PC/laptop to be successful.  Staples has stepped in with this HP laptop.
Here are some stats on the HP 2000-2c32nr 15.6 Laptop:
AMD E1-1500 1.48GHz 1MB L2 Cache Accelerated Processor
4GB DDR3 SDRAM (1 DIMM), expandable to 8GB
320GB 5400RPM Hard Drive
15.6″ diagonal HD BrightView LED-backlit display (1366 x 768)
Windows 8
For a full list of spec click HERE.
Upon receiving we expanded the RAM to 8 GB. That's an easy task especially when you already have memory sticks on hand because of a technology obsession in the family.  Other then the memory upgrade all I needed to do was turn on the laptop and run through a bunch of normal setup items.  I'm even using the free trial of Norton Antivirus that was provided on the laptop and so far I have had zero problems.  As a blogger I am always writing a post, surfing the web or browsing social media so I need a laptop that is able to multitask along with me.  It's been a challenge learning Windows 8 because of all of the new features but I feel like I am holding my own so far.  I know there are so many features of the laptop that I am not using but I know in time I will learn them and use them just like I do with the current features that I do know.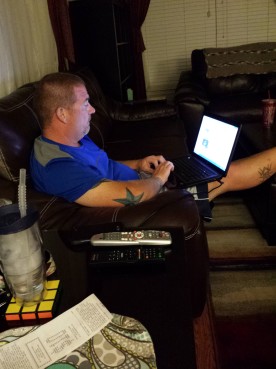 Overall I am very impressed with the HP 2000-2c32nr and for it only costing $320.00 this laptop is a steal.