Since high school I've shopped thrift stores for clothes & jackets. These days I've expanded my frugal shopping to also include yard sales and consignment stores. My best hauls have come from Just Between Friends Western Mainline Consignment Sales. The 2 women that run this (and Reading) shopping know what families want and need and put on the best sale in the area. Unfortunately you missed the sale in Philadelphia/Mainline but Reading is coming up soon.
JBF Reading
Thursday, Sept 26 9am-8pm
Friday, Sept 27 9am-7pm
Saturday, Sept 28 8am-5pm HALF OFF DAY
Admission is $2 on Thursday ONLY
https://www.facebook.com/jbfphilly

I went to the Western Mainline sale in the day it opened and left with so many great deals my friends were jealous. Some of my favorite buys were a wooden doll crib with underneath storage for $6, a navy polka dot trench coat for Shae for $10 and Nick and Nora sock monkey jammies for $6.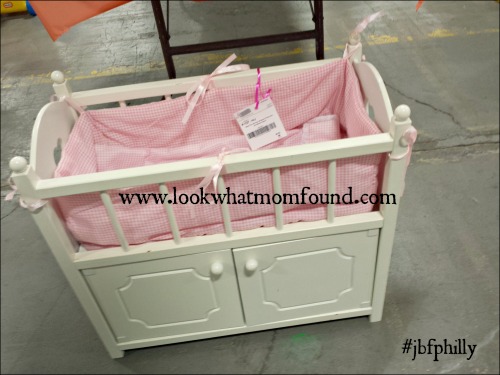 I went with a few rules in mind. These are how I'm able to shop smart and efficiently.
Be prepared. Know your children's clothing and shoe sizes. Find out if they need things like winter coats, sneakers and other basics.
Bring something to carry your haul. Large tote bags, laundry baskets, shopping baskets, etc.
If you like it, grab it because it might not be there when you circle back in 15 minutes.
Shop with outfits in mind. The worst thing to do is getting an adorably pattern piece home with nothing to match it. It will just sit in a drawer.
Sort through your haul before checking out. Ask yourself "Would I buy that in a retail store?"
Make sure buttons are attached, zippers go up, down AND lock, drawstrings are intact and seams aren't ripped. Review hems, sleeves, collars and armpits for stains or holes.
Inspect baby gear for loose screws, chipped paint, missing pieces. Use your smartphone to check recall lists or reviews.
Be comfortable. Shopping can be hard work especially when you are hauling piles of clothing around. Leave the heavy handbag at home.
Use these tips to achieve a successful and fruitful shopping trip. Now see below for the list of things I bought. I spent $170. It sounds like a lot but Shae pretty much got a whole new winter wardrobe and Shaun got 2 winter coats, one for school one for play. Now let's hope we get some snow.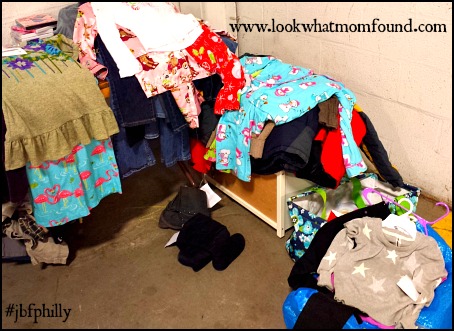 For Shaun
Zero Exposure Winter Coat with removable fleece liner
Tony Hawk Winter Coat LIKE NEW
For Shae
Jane Girls Navy Polka Dot Trench Coat WITH TAGS
Candies Jeans
Old Navy Jeans
Levis Strauss jeans WITH TAGS
Gap green velour skirt
Gymboree jean skirt
Gap gray skinny pants
Cherokee purple velour skinny pants
Angel Kiss brown cropped jacket
Cherokee pink zip up sweater hoodie
Cherokee teal zip up sweater hoodie
Thalia Sodi brown trouser capris
Old Navy long sleeve applique tee
Limited Too blue sweater tunic hoodie
Unknown brand gray tunic
Unknown brand gray flower embellished sweater
Hype brown and floral sweater dress
Nick and Nora sock monkey jammies WITH TAGS
Nick & Nora flamingo jammies
Unknown brand Christmas Jammies
Gap black & white floral flats
Justice silver sequin high tops sneakers
DVDS
Mary Poppins 40th Edition UNOPENED $5
James and the Giant Peach
3 Barbie Movies
Bell bike helmet $7
Wooden doll crib with storage and bedding