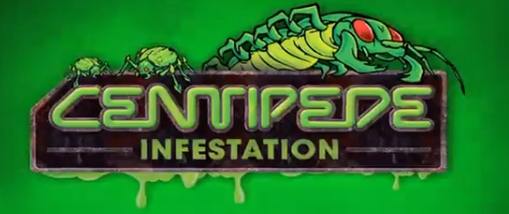 Games make the perfect holiday gift for that kid or gamer on your list and you may want to give them the new video game from Atari, Centipede Infestation for the Wii or Nintendo 3DS.
From what I can see it is a basic but still very cool and fun run and gun type of game where you need to shoot many different bugs that come at you from all different directions.
Help Max defend Maisy, whose gardens bring life back to the wasteland. Squash giant mutated centipedes, spiders, beetles, scorpions, hornets and more. Lay waste to these mutated bugs with weapons such as the Lightning Gun, Freezethrower, Missile Launcher, and more. Use bodies of dead bugs to craft new defenses and power-ups like turret guns and barricades, or just crush them with your mighty stomp!
Here are some additional product features of the game:
 Reimagined version of the classic gaming franchise designed specifically for the Nintendo 3DS
Explore an expansive new world with 7 environments, 40 stages and 5 boss battles
Choose from over 20 different weapons and 12 power-ups to battle against 13 different types of bugs
Team up with a friend to kill even more bugs with 2 player co-op multiplayer
Unique Nintendo 3DS StreetPass and SpotPass functionality built into the game for content sharing
Centipede Infestation is right up Shaun's alley as he likes the shoot em up type of games and this game is rated E for Everyone so I am comfortable with him playing this game.  This games retails for $29.99 at most major retails so if you are out looking for a present for the gamer be sure to check out Centipede Infestation.