I am not sure where I stand when it comes to shaving but I would love to know if I am the minority or the majority.  Do men love to shave?  I will be honest and say I 100% hated shaving until I received the Norelco Senso Touch 3D electric shaver. I would think ahead on what days I would have to shave for work and knew those days I would be irritated.

I know you are going to say that I need to say that because I received this for review but I am serious when I say this is the best shaver I have ever tried. I still don't love to shave but I also don't hate it like I used to.  My skin is extremely sensitive so I could only shave in the shower when my face was wet and the hairs were soft otherwise my skin would get so irritated and cut up but with the Senso Touch 3D I am able to shave when I get out of the shower with no problems at all.
The Norelco Senso Touch 3D (1290x) is a wet and dry electric shaver so I now have options.  I can use the shaver in the shower if I want which I still haven't done or once I get out which I have done probably 25 times already.  With a tradition razor and shaving cream I would only shave twice a week otherwise my face would be all messed up but now that I am using the Norelco Senso Touch 3D I am able to shave daily with ZERO problems meaning no skin irritation or anything.  When I was in college I tried using an electric shaver and I HATED it so I was very hesitant when I received the Senso Touch 3D but I am pleasantly surprised and will NEVER go back to my old razor, we are through!!!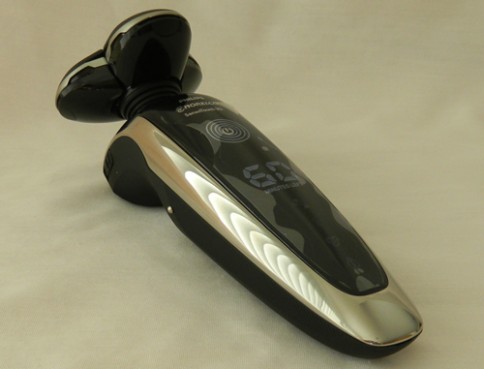 Here are a few highlights:
Philips GyroFlex 3D system adjusts seamlessly to every curve
UltraTrack heads catch every hair with just a few strokes
SensoTouch Shavers with patented Super Lift&Cut Action
Aquatec seal for comfortable dry & refreshing wet shaves
Smooth, low-friction SkinGlide to minimize irritation
The Norelco Senso Touch 3D is super easy to use as well as clean.  It has given me a shave that my traditional razor could never give me.  It is close and like I mentioned it doesn't irritate my skin which is huge because I wouldn't shave just so I could avoid the uncomfortable feeling.  I've never used an electric razor and heard lots of things like it would take weeks for your skin to get used to it but the 1st night I was impressed.  Instead of shaving 2-3 times a week I can now shave nightly if I want and not worry about my skin afterwards.
The Senso Touch 3D is a shaver that I will be using for very long time.
Luckily we are offering this same shaver to ONE lucky Look What Mom Found…and Dad too reader.  Check out the Rafflecopter Widget below for entry rules and extra opportunities to win.


a Rafflecopter giveaway