It's hard to believe that the month of January is almost over but it's even harder to believe that Valentine's Day is right around the corner.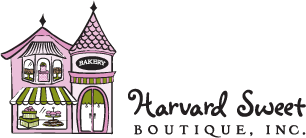 Melinda and I don't really celebrate Valentine's Day in the full sense of the word like flowers, candy and dinner but we do exchange cards and get each other a nice little gift.  Recently I received a nice package full of awesome toffee, brownies/bars and cookies from Harvard Sweet Boutique located in Hudson, MA and I am planning to give Melinda something just like this for Valentine's Day.  What person wouldn't like delicious brownies, cookies or toffee?  You couldn't think of anyone could you, either could I.
Harvard Sweet Boutique was founded in January, 2007, by Susan George.  Her passion for fine baking and recognition of the need for unique gift alternatives helped to mold the idea for the company. Harvard Sweet Boutique has become the indulgence of choice for those who are looking to send the most memorable and sensational gifts.
In my package that I received all of the items were really really good but my favorite item was the Chocolate-Glazed Macadamia Caramel Shortbread Bar.  Shae and Shaun loved the assortment of cookies and Melinda and Sabreena loved the brownies.  I liked how each item came individually wrapped for total freshness and come in a really nice gift box.
Now that I have tested a few of the items from Harvard Sweet Boutique I will be sending these to my grandparents for sure.  They LOVE sweets and that is typically what Melinda and I send them for holidays as well as birthdays.  My grandfather can be a real pain when it comes to his sweets but I know after tasting what Harvard Sweet Boutique sent me he won't have a single complaint.  My grandmother is also going to love the gift box.
I'm glad that Harvard Sweet Boutique reached out to me to do this delicious review because if not I might have missed out on their awesomeness forever.