While my Irish heritage is by maiden name only I still like to partake in some of the traditions.  Irish Soda Bread is something we've never made though. I never really what it exactly what it was but after some research, recommendations and modifications we came up version that is truly tasty.  Is it authentic, probably not but I'm ok with that.
Shae has been more involved in baking these days. I can hand her measuring cups and all the ingredients and she'll dole out all of the ingredients for me.  She even pours out the liquids to precise quantities.
This particular recipe called for a HUGE loaf of bread.  Next time I'll split it into 2 loaves so it is easier to handle. I also think I'll make it in a bread loaf for a more uniform product.  We're eating this for snack, dessert and breakfast just as it is.
Sweet Irish Soda Bread
4 1/2 cups flour
1/14 cups sugar
2 1/2 tsp baking powder
pinch of salt
1 tsp baking soda
1/2 cup butter softened, cut into pieces
1 1/2 cup raisins
1/2 cup slivered almonds
1 egg
2 cups buttermilk
1/2 cup heavy cream
Directions
Preheat oven to 350 degrees and prepare a large dutch oven pot or 2 bread pans or 2 round cake pans with parchment paper.
In a large bowl whisk together your flour, sugar, baking powder, salt & baking soda.
Blend in butter, raisins and almonds till butter is pea size crumbs.
Add egg, buttermilk & milk and mix till just combined.
Pour this batter into your prepared pan(s) and bake for 45-70 minutes depending on size of loaf.  An inserted toothpick should come out clean and the top of your bread should be a beautiful golden brown.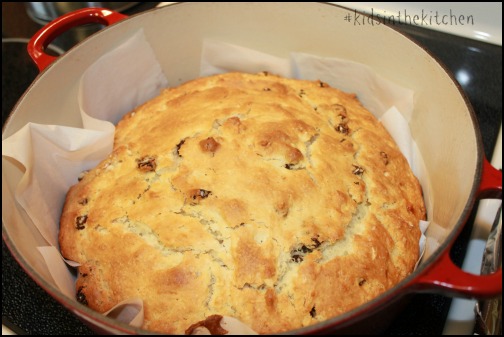 If you're lucky you'll have some to enjoy for  2 days.
Come join me and my co-hosts, Sarah of Play to Learn with Sarah, Paula at Frosted Fingers and Sara at Sensibly Sara, each week linking up a post, new or old, that feature the theme Kids in the Kitchen. It doesn't matter what you are doing as long as you are doing it together, enjoying it and learning something along the way.
preparing healthy snacks
having a tea party
discovering a local restaurant that your kids love
creating new family friendly recipes
You'll find so many more ideas on the #KidsintheKitchen Pinterest Board.

Follow Melinda Babiak's board #KidsintheKitchen on Pinterest.