I hate to admit this but Shae prefers boxed mac and cheese to my homemade kind.The rest of the family prefers mine so most of the time she's out voted. Sometimes when time is of the essence I have to rely on the boxed kind even though I don't like it very much. I found a way to kick up the flavor and presentation but using one of my favorite methods, muffin shaped food.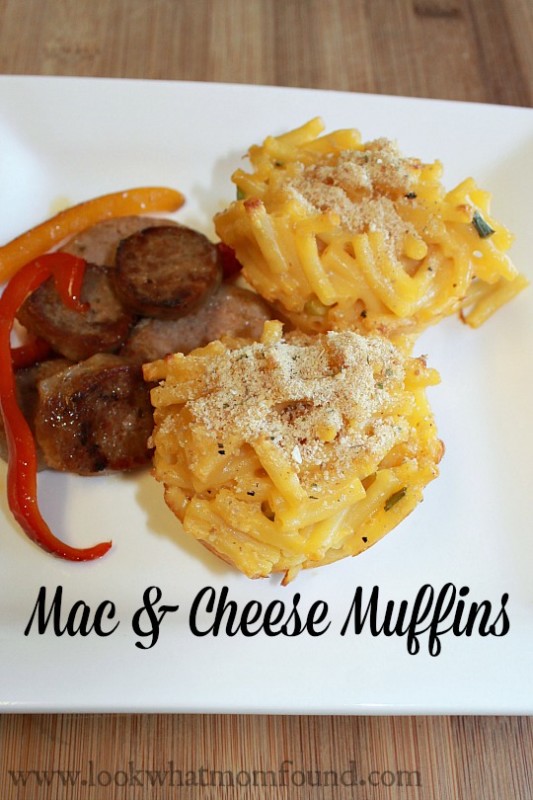 Adding prepared mac and cheese, and some other yummy ingredients, to muffin tins creates something magical. The Mac and Cheese Muffins come out with a crispy crust and creamy inside, making them very different from their boxed beginnings.
These Green Onion Mac and Cheese Muffins turned out incredibly good. I'm going to add green onions more often because they add a great fresh onion taste without the harsh bite white onions tend to do.
Ingredients
2 boxes of box mac and cheese
1 cup shredded cheese (we used mexican blend and mozzerella)
1 cup milk
2 tbls softened butter
4 stalks of green onions chopped
1/2 tsp salt
1/4 tsp pepper
1 egg, beaten
bread crumbs
*any chopped meat of choice
Directions
Preheat oven to 375° and coat your muffin tins (12 cups)with cooking spray.
Prepare your macaroni according to package directions. Drain and transfer to a large mixing bowl.
Have you child add in all of the ingredients plus the cheese packets except bread crumbs and mix, mix, mix.
Taste to be sure it tastes the way you like it and adding meat or veggies if you choose.
Now it's time to spoon your mixture into the muffin tins. Fill them all the way till almost overflowing. Top with a sprinkle of breadcrumbs. Bake for 20 minutes till bubbly and browned.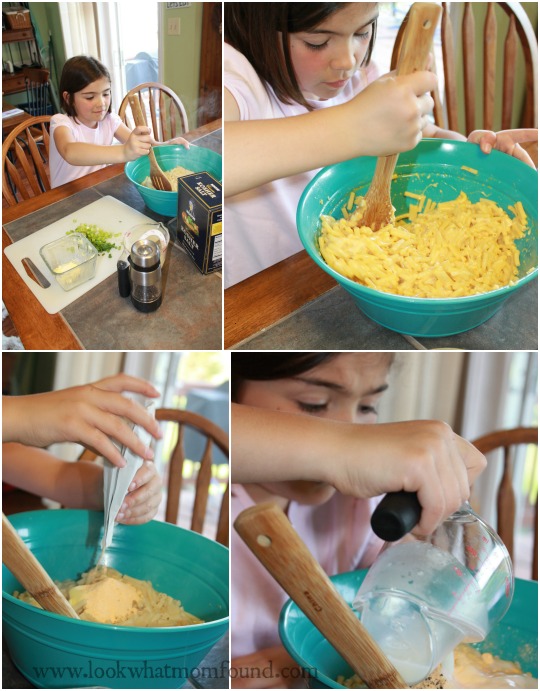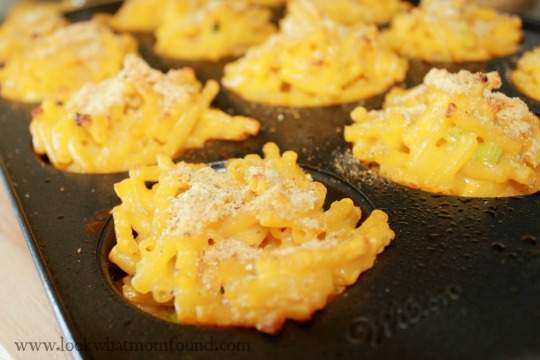 We enjoyed along side of Italian sausage and peppers.
Shae loved that she did most of the work!
Come join me and my co-hosts, Sarah of Play to Learn with Sarah, Paula at Frosted Fingers and Sara at Sensibly Sara, each week linking up a post, new or old, that feature the theme Kids in the Kitchen. It doesn't matter what you are doing as long as you are doing it together, enjoying it and learning something along the way.
preparing healthy snacks
having a tea party
discovering a local restaurant that your kids love
creating new family friendly recipes
You'll find so many more ideas on the #KidsintheKitchen Pinterest Board.

Follow Melinda Babiak's board #KidsintheKitchen on Pinterest.