The year started rough. Financially our wallets were tight. I knew we needed to start making changes to our spending, saving and overall thinking about money. Simple changes were made such as less frequent eating out, weekly meal plans that produced more structured grocery shopping and reduced spending overall. There had to be more thought put into the things we were buying and bringing into the house.visa
Gone are the days of walking the mall and shopping for nothing important. Gone are my lazy days of "I don't feel like making dinner". I've realized that in order to contribute I had to change me. Another change we made was the 52 Week Challenge. So far it's working out well. We even threw a few extra bucks in there if we're cleaning out wallets and purses. We are still early in the year so $7 or $8 isn't hard to part with but we are committed to put together a chunk of money for something fun at the end of the year.
Visa Prepaid has created the Build Your Best Year app instant win game on Facebook to help you keep you on track of your financial resolutions or create new ones while we are still early in the year. Every day you have a chance to win one of 35 great prizes!
1 Premium Headphones
34 $15 Visa Gift cards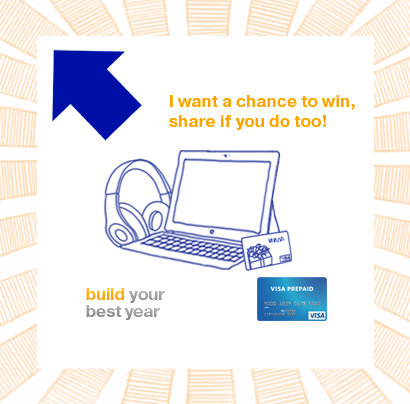 *Plus, you'll be entered into a sweepstakes for a Tablet PC with kickstand and touch keyboard each time you play, or share with a friend who plays by using your share link!
Even if you don't win don't forget that Visa Prepaid is built to work for you. Load your tax return directly onto your card, manage your spending or get your paycheck automatically deposited.
I am blogging on behalf of Visa Prepaid and received compensation for my time from Visa for sharing my views in this post, but the views expressed here are solely mine, not Visa's. Discover more at http://www.VisaPrepaid.com or join the Visa Prepaid community athttp://www.facebook.com/VisaPrepaid.