I was never a great student in science. I mean I did enjoy it but it didn't always make total sense to me. Maybe that's why I completely botched our homemade Rock Candy experience.
Shae wasn't too sure what rock candy was until I showed her a picture of it online. I asked if she wasn't to make some and she was excited. I figured this was something she was going to be able to see results over a few days making it really fun and interactive. I was wrong wrong wrong.
Shae was a great help with the stove work. She poured the water and sugar and helped stir but when it came to pouring I was in charge.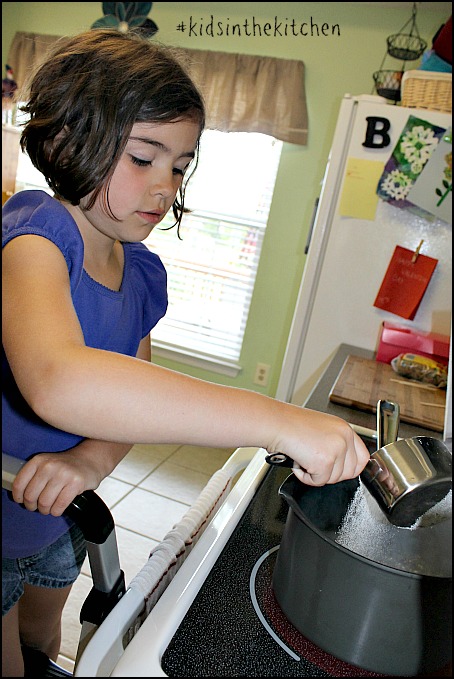 The gorgeous blue color reminded me of the Caribbean Sea and I thought we would have some pretty Rock Candy to eat afterwards.
Something happened. The day after pouring it into the jar there was NOTHING to see.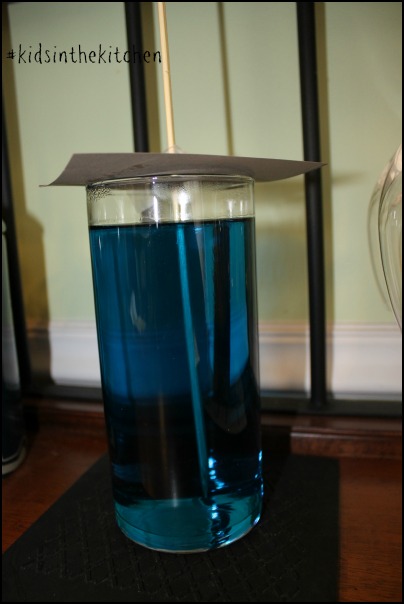 According to everything I read I was supposed to reboil and add sugar, so I did. I knew from the looks of the mixture after the reboil and sugar addition it wasn't going to turn out well. I was right. Within an hour it had turned into a solid block of sugar with skewer sticking out of it.
Oh well.. Shae had fun helping to make it and had a few laughs when it didn't turn out so well.
Did you have fun in the "kitchen" this week? Did you try a new food or a new kid friendly restaurant? Did your littlest ones use their snacks to count to 10? We invite you to share your experiences, photos, stories or recipes that include your #kidsinthekitchen.
Come join me and my co-hosts, Paula at Frosted Fingers and Sara at Sensibly Sara, each week linking up a post, new or old, that feature the theme Kids in the Kitchen. It doesn't matter what you are doing as long as you are doing it together, enjoying it and learning something along the way.
preparing healthy snacks
having a tea party
discovering a local restaurant that your kids love
creating new family friendly recipes
Don't have a blog? Share an instagram photo or Facebook update instead.