Shaun doesn't get a lot of attention on #kidsinthekitchen. He's involved in most of the things that we do together but he's a get in, get it down, get out kinda kid. He doesn't wait around for things to dry, bake, set or cool. This summer though he's been in charge of making lunch for him and Shae. This usually consists of sandwiches, pepperoni/cheese/crackers, wraps & veggies.
This week though they wanted sliced apples and peanut butter. I was in the middle of something and told him to cut the apples and he hesitantly said OK. I realized that at 10 years old he'd never handled something larger than a steak knife. So I gave him a lesson.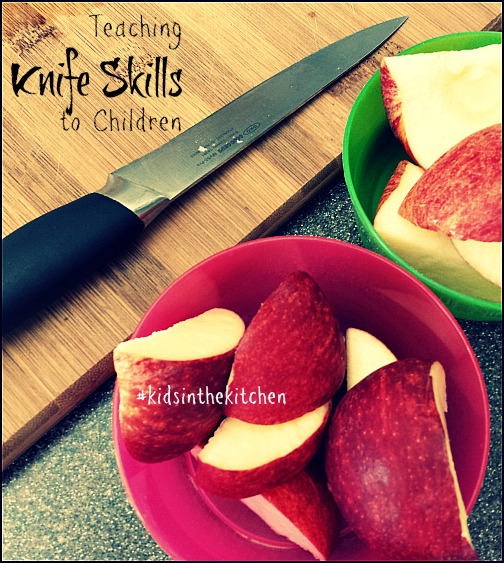 Making sure his fingertips were always out of the way I told him to make sure his apple was as stable as possible for his first cut. Pressing down firmly with a slicing motion he made his first cut. Then turning the apple over so the flat side was on the cutting board he continued to cut the rest of the apple then a second.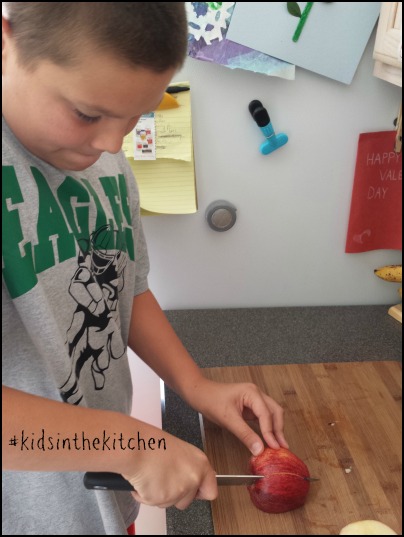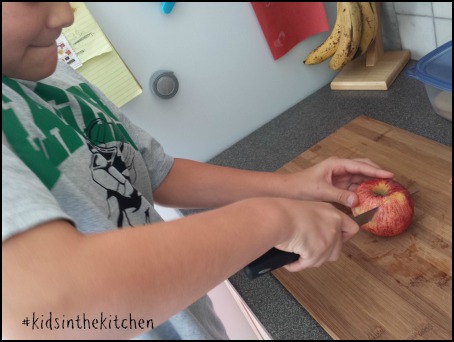 His cuts were a bit crooked but with some more practice he'll get better. Some keys to start off with when teaching knife safety are:
Make sure your knives are sharp. A dull knife will slide out of position and will put your digits in danger.
Cut and slice away from the body.
Keep knives clean. Just like on counters and hands, lingering bacteria can cause illness. Proper cleaning of a knife can be tricky. Be sure the blade and point are kept away from the body and a soapy sponge is run along the "wrong" side of the side.
Carry knives with care. While I don't recommend children transporting knives a safe way to teach while still young is to wrap in a dish towel and walk carefully. Unwrap the knife so someone else doesn't accidently grab the towel.
Never Lick the Blade. It's tempting but it could end in disaster.
Use knives for their intended purposes only. Knives shouldn't be used to pick up and eat food pry things apart. A simple slip could cause serious cuts.
These simple rules are a great start to more independence in the kitchen. What are some of your safety tips?
Did you have fun in the "kitchen" this week? Did you try a new food or a new kid friendly restaurant? Did your littlest ones use their snacks to count to 10? We invite you to share your experiences, photos, stories or recipes that include your #kidsinthekitchen.
Come join me and my co-hosts, Paula at Frosted Fingers and Sara at Sensibly Sara, each week linking up a post, new or old, that feature the theme Kids in the Kitchen. It doesn't matter what you are doing as long as you are doing it together, enjoying it and learning something along the way.
preparing healthy snacks
having a tea party
discovering a local restaurant that your kids love
creating new family friendly recipes
Don't have a blog? Share an instagram photo or Facebook update.