In just a few shorts days we're heading out for our summer family vacation thanks to Carnival Cruiselines. We aren't strangers to the cruise but nowhere near the cruise enthusiasts I want to be. Our last cruise was 4 years ago and the kids still talk about it and have been begging to go again since then. Timing couldn't have been better either; Sabreena graduated high school a few weeks ago. Rob and I will be celebrating our 13th wedding anniversary while at sea and Shae turns 7 a couple weeks after we get back. It's celebration time all around.
The Carnival Fantasy leaves out of Charleston, South Carolina and headed to the Caribbean. We'll be taking the 9 hour drive to South Carolina overnight, seeing some of the pretty and historical sights of Charleston then boarding the 855 foot boat for non-stop fun over the next 8 days.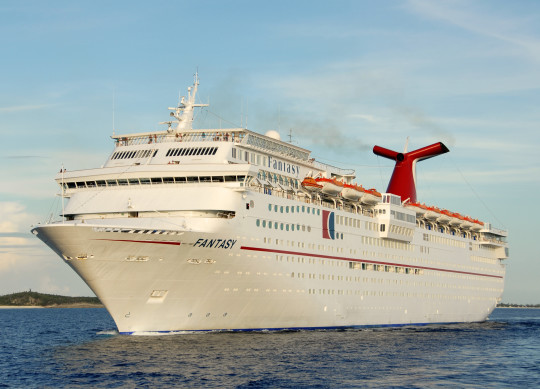 Our Ports of Call while #CruisingCarnival
Grand Turk-Grand Turk, Turks & Caicos, may be small, but it's packed with scenic punch and historic charm. Carnival® cruises to Grand Turk deliver you to an enchanted island outpost dotted with old windmills, grassy trails, and picture-perfect beaches. Discover an oasis of green set in aquamarine seas ringed by a pristine coral reef and the steep wall of the continental shelf with cruises to Grand Turk. Swim in the sparkling turquoise seas off Governor's Beach. Snorkel or dive the coral reefs fringing Grand Turk.

Half Moon Cay, the Bahamas-Fulfill your tropical island fantasy on Carnival cruises to Half Moon Cay, the Bahamas. Sway in the sweet Bahamian breezes to the rhythms of calypso and find romance on this private island paradise. Cruises to Half Moon Cay deliver you to an idyllic sun-drenched island hideaway where you can play in the turquoise seas, ride horseback on powdery white sand, and encounter silky stingrays. Sail, swim or snorkel the shallow blue-green Atlantic. Ride horseback along the sea's edge on Half Moon Cay cruises.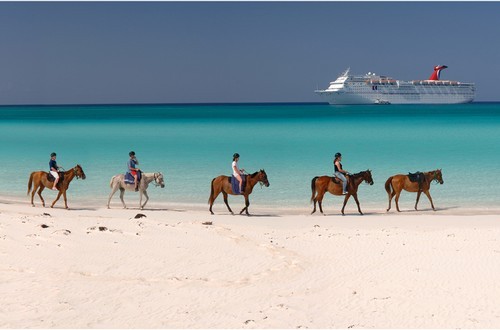 Nassau, the Bahamas-Blessed by balmy breezes and jumping to a bouncy calypso beat, Carnival cruises to Nassau, Bahamas promise sizzling fun in the sun. The historic and cultural heart of The Bahamas is one of the world's most popular cruise ship ports—one million travelers board cruises to Nassau annually.

The Fantasy is filled with so much to do during the 8 days at sea. The kids will enjoy Club Carnival, Hasbro the game show, video games in the arcade, putt putt golf and of course Waterworks water park. Rob and I have the casino, nightclubs, Punchliner Comedy club, the piano bar, Serenity Adult Retreat and spa services to rival the best in the country.
As a family we'll have lots of time to relax by the pool, enjoy casual dining with 24 hour soft-serve ice cream and pizza and do a little shopping while sailing.
Follow along all week while we share our experiences, photos from the Caribbean and memories we make while #cruisingcarnival.