Getting the

kids

to get off their butts isn't always easy. Some of them love to run around at any opportunity, but sometimes all they want to do is play video games. If you're struggling to remove them from in front of the TV, a day out might be just the thing you need. You can take them for a treat and get them to do something active, without it feeling like you're forcing exercise on them. You don't want to turn exercise into a duty for your kids, or they might struggle to connect with it when they're older. So instead of pushing them into a walk or bike ride, try one of these fun and active days out.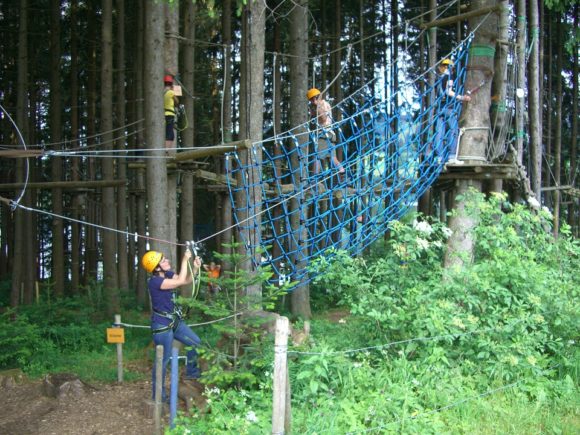 Rope Courses and Ziplines
If you're not one for heights, this option may not be for you. You can always watch from the ground, but it's more fun if you join in with your kids. On the other hand, it's a great way to get over your fears while helping your kids to conquer theirs. You can show them that it's alright to be scared but that you can also push past your fear to have fun. Rope courses and ziplines can be great fun for all the family, and you'll get a great workout by climbing about. Of course, sailing down a zipline is a little less active, but getting to the top often takes some work.
Laser Tag
Kids love to chase each other about anyway, but throw some pretend combat into the mix, and it's even more fun. Laser tag is great for some friendly rivalry or maybe to help form camaraderie among your kids. Maybe you could team up as kids against parents to encourage some sibling bonding. You can spend a good few hours doing this activity, and it's excellent for kids birthday parties too. Everyone is sure to be tired out by the time you're finished. Paintballing is another, similar activity, which can also be great fun.
Trampolining
Jumping on a trampoline is an incredible way to be active. You might not realize it, but it's great cardio exercise. In fact, ten minutes on a trampoline is worth as much as a 30-minute run. There is a growing number of places to go to where the kids can jump about on giant trampolines. You can usually book a session for a few hours. If you don't have one of these places close to you, there's always the option of a trampoline in your own backyard.
Walks and Bike Rides with a Purpose
For adults, the experience of walking or cycling and some beautiful scenery is often enough to keep them entertained. But kids sometimes don't see any point in walking or cycling just for the fun of it. They want their journey to have a purpose, so why not give them one? You can spice up a trip by creating some activities or finding a trail where there are already things to do. You could have a scavenger hunt, look for mythical creatures, or make up a story along the way.
There are lots of fun ways to get out and about with the kids without boring them. Choose an activity you can do together to make keeping fit exciting.