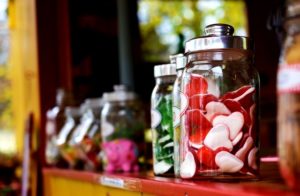 Candy buffets are everywhere. From the toddler party to elegant weddings, the ideas are endless. The table is decorated according to the theme and the candy is irresistible. The wow factor is incredible. But there is one area people have overlooked. Teenagers have celebrations and a candy buffet is perfect for the. They have the fun of themes that fit their lifestyles and they can stuff their pockets (and faces) with their favorite candy!  
To create a candy buffet, you need an online bulk candy supplier. You need a theme and you need basic DIY candy buffet instructions. When creating a candy buffet for your teenager, you simply need to tap into what he or she loves. Below we have listed a few ideas for you. These are just to get you started, Use your imagination and put together a one-of-a-kind candy buffet that your guests will never forget.
Teenager celebrations
Graduation – this can be graduating from middle school and beginning high school years, or graduation from high school

Bar Mitzvah

Bat Mitzvah

Quinceanera

Senior trip

Birthday (sweet 16 is always fun)

Sports
Any of these things will make a great theme for your candy buffet. Your teen may be into sports or cheerleading. Almost all teens are into music (think favorite group theme). You can theme the senior trip. Your girls may be into makeup and wild colors for her hair and your boys may be into trail riding, track, or rock climbing. Once your have chosen a theme that just screams your teen's name, you are ready to choose your colors and props.
Theme shaped vases or jars are great as long as they are clear. If your container is not clear, try to use it in the front zone of the table where low trays will be placed.  Have fun with your centerpiece and backdrop as these will make the look of your candy buffet. If you are doing a music theme, use posters of their favorite band, musical signs, and banners. Graduation is all about caps and gowns, diplomas, tassels and saying good-bye to childhood.
There are no shortages on ideas for your candy buffet online if you need help. The most important thing is creating something that relates to your teen and their friends.
'Here are some very basic and general tips:
Tips For Your DIY Candy Buffet
Vases and jars in the back section are taller than other jars. Different size vases and jars to create height and depth to the candy buffet.

Estimate eight ounces of candy per guest will be needed. Special or designer candy should be limited to one or two pieces per guest. You can go up or down an ounce depending on if the guests will arrive hungry and if you are or are not serving other foods. Fill the containers approximately 3/4 of the way.

Place special props on the table to fill in empty places. (see our list of idea themes above).

Let your bulk candy supplier know what your candy buffet is about and he may find you some candy that will not go bad.

Don't forget the scoops and tongs. You can substitute large spoons with ribbons, or even small plastic shovels if you find them in your color scheme

If you decide to order chocolate, pay attention to the storage instructions. Also, note the temperature as express shipping may be required in order to deliver it without fear of melting.

Add personal touches and beauty to the table with banners, table covers, and runners, backdrops, ribbons, balloons, or infant items

Provide goodie bags, boxes or cups for taking home candy.
Now you have everything you need. So get out there and make your teens bash a huge success.
Author Bio
Wendy Dessler
Title: Super-Connector at OutreachMama
Wendy is a super-connector with OutreachMama and Towering SEO who helps businesses find their audience online through outreach, partnerships, and networking. She frequently writes about the latest advancements in digital marketing and focuses her efforts on developing customized blogger outreach plans depending on the industry and competition. You can contact her on Twitter.