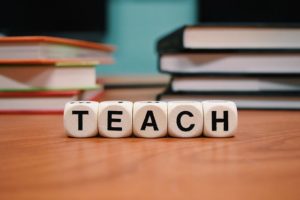 If your child has just graduated from college and seems unsure of what they would like to do next with their life, don't panic! Does the mere thought of your child stuck in a cubicle for up to 8 plus sound like the dreams you had for him or her? We didn't think so. The truth is, there are several great careers opportunities overseas that can have a greater impact on your undecided kid than jumping into a career they may not be excited about.
Teaching English abroad is one way that recent graduates can travel with purpose and keep on collecting cross-cultural experiences (and passport stamps!) Teaching ESL is the ideal way to marry wanderlust together with a paying profession. In addition, it is also a good way to step out from your comfort zone, learn new skills, accumulate incredible memories that you can't find at home, and make a long-lasting difference in other people's lives. So here comes the big question: is teaching ESL a good career for your kid? Let's find out:
1. It's A Great Job Market
With approximately 1 billion people enrolling for English classes all over the world every year, demand for ESL teachers across the world is quite large such that unlike other segments of the economy, the market for ESL teaching is stronger than other markets you can focus on after college. In fact, even those who don't have a degree can also get hired to teach English overseas. In most cases, it is not necessarily a question on whether you can actually get a job, but rather about which job and which country fits you.
In addition, you don't have to hold an education degree or even possess teaching experience so as to teach English abroad. Generally, taking an accredited TEFL certification course (normally 4 weeks full-time, or eleven weeks on a part-time basis online) is all you need to pack your bags and have an experience of a lifetime. Having recognized TEFL certification shall provide you with the qualification and training that you need so as to get a job as a professional ESL teacher.
2. Make A Difference In Other People's Lives
While you might see teaching English primarily as a way of paying the bills while living in a calm international destination such as China or Costa Rica, keep in mind that the skill you are teaching can become a key factor to accessing better educational and professional opportunities for your students.  Regardless of the industry your students ultimately decide to work in, having a solid grip on the English language will be a huge competitive advantage and help these students creating a better future.
3. Gain International Work Experiences for Your Resume
In today's globalized economy, employers in almost all sectors seek people with international experience. Furthermore, taking a job in another country proves your initiative, willingness to live and work outside of your comfort level, as well as your ability to face new challenges and adapt to new environments. This can serve you quite well regardless of the professional endeavors that you will be pursuing in the future.
You will learn more things about yourself and whether or not you can fully adjust to living in a completely new culture and work with individuals from a very different background. Being a teacher, you will also be a student by learning the different ways to view the world and also solve problems. With an ESL teaching career, you will grow to become more open, culturally sensitive, and tolerant.
4. Become a Member of a Local Community in a Foreign Country
As an ESL teacher, you might immerse yourself totally in the culture and daily life of a foreign nation even more deeper than when studying abroad. You will likely be living in a middle class neighborhood, ride to work using local transportation, shop at the local markets and then hang out at the sake bar or corner café with your neighbors. In such instances, your colleagues and friends will be inviting you to join them during family gatherings such as weddings. This will provide you with the opportunity to experience the foreign culture to a greater degree.
5. Fantastic Travel Opportunities
If you are working in an office job in New Jersey or San Francisco, chances are that you aren't taking off for Tokyo or Berlin for a weekend. However, if you are teaching English in Seoul or New Prague, such travel opportunities are routine. The simple fact here is that due to basic geography, international travels from Canada or the USA usually entail a good investment of money and time – 2 things that most people simply don't possess. By the virtue of living in another country, you'll enjoy greater international travel opportunities, and in most instances in Latin America, Asia and European nations where you can ski, swim or bike to the next country. It's simply cheaper and much easier to visit a foreign country than it is from North America.
Summary
Every year, thousands of people usually go overseas to teach English. Both young and old, these people go overseas for many reasons: make money to travel, learn about a very new culture, experience something new, or seek adventure. Teaching ESL is a great way for your child to travel, experience the world and also gain great professional experiences for his or her resume.