This week for #KidsintheKitchen we worked on organization. Specifically I taught Shae how to get organized when it's time for baking. Baking is so different than just cooking. Since there is some science involved with baking it's important to make sure you have all of your ingredients, the right amounts and ready to add. Being unorganized while baking can cause catastrophic results. Skipping over ingredients or adding incorrect measurements can effect taste and texture.
Starting good kitchen habits early on can only with end results and clean up.


We took the easy way out and used a boxed cake mix since we're pressed for time in the afternoons. I showed her how to look at the entire recipe, see each ingredient she needed and work on any prep work. I preheated the oven while she put papers in the muffin tins I don't know why but she loves this step.


Next we measured out each ingredient, mixed up the batter and poured it into our tins. This particular batch was for Shaun's lacrosse team but we snuck a couple for quality control.


Did you have fun in the kitchen this week? Did you try a new food or a new restaurant? Did your littlest ones use their snacks to count to 10? Share your experiences, photos, stories or recipes that include your #kidsinthekitchen. I would love for you to join me and my co-hosts, Paula at Frosted Fingers and Sara at Sensibly Sara, each week linking up a post, new or old, that feature the theme Kids in the Kitchen. It doesn't matter what you are doing as long as you are doing it together and enjoying it and learning something.
preparing healthy snacks
having a tea party
discovering a local restaurant that your kids love
creating new family friendly recipes
Don't have a blog, then share a photo you uploaded to Facebook, Instagram or Twitter. Share whatever you have, we want to see it.
Linky Rules
1. Link up only your kid friendly recipes, stories, pictures or cooking lessons here.
2. Link directly to a specific post, update or tweet not your homepage.
3. Please add a Kids in the Kitchen button or link on your site or blog post or share through social media so readers know you are participating.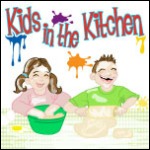 4. Click through and comment, pin, like, tweet or share with other participants. We love to share inspiration and ideas with each other, don't link and run.
5. Follow the hosts of this feature, Paula at Frosted Fingers, Sara at Sensibly Sara and me, Melinda atLookWhatMomFound…and Dad too!
I can't wait to see all of the fun food themed ideas, excursions and photos you have to share.