It's the end of the school day and I'm anxiously waiting for the kids to barrel through the front door. They come in and it's like a tornado. Shoes are kicked off, jackets are slung on chairs, backpacks opened and papers are in the swirling in the air. Mom, Mom, Mom, MOM. Guess what happened at school today? Maxim got in trouble again. I got a perfect score on my test. Can I have a snack?I ripped my jeans on the playground. What's for dinner? Can we have a snack? Can I watch Frozen again? Can I have a snack? Mom is spread thin these first few moments, time to #spreadtheflavor with Philadelphia soft cream cheese.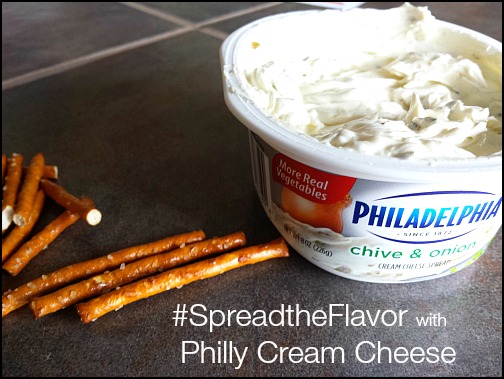 Time to take a deep breath, sit them down at the kitchen island and start the wind down process. I get them to each talk about their day, go over papers and start homework. This is usually when we break out a snack. Keeping it easy is usually the way to go. There is always something happening within the next hour such as Lacrosse practice, Youth in Government, Vet appointments or errands. There is nothing simpler than flavored Philly Cream Cheese.
Snacks can vary from cheese sticks to fruit to crackers & peanut butter. I always try to keep it small, light but tasty. Pretzel sticks or wheat crackers dipped into Garden Vegetable Philadelphia Cream Cheese has been a new favorite. It's enough richness to satisfy their grumbling tummies but still wholesome so I don't feel the mommy guilt like when I feed them less nourishing options.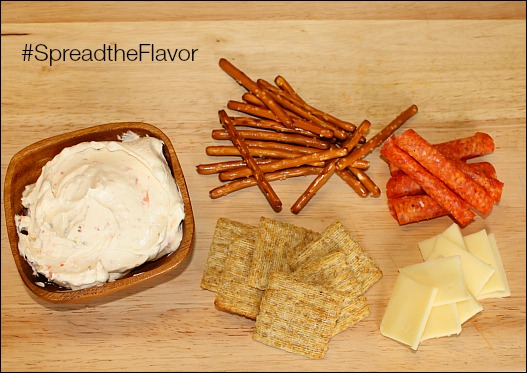 Philadelphia Cream Cheese Spreads aren't just for snacking and bagels either. I've been known to doctor up my staple Chicken, Pasta and Veggie dinner with a big scoop of Chive & Onion or Garden Vegetable flavored philly cream cheese. It transforms the tasty but simple meal into a decadent feast where no one is picking out ingredients they don't want.
Food and cooking doesn't have to be rigid or tedious or dull. Take the meals that you already prepare and give them a makeover. I choose Philadelphia Cream Cheese Spreads for this one because it a BIG change with little effort. Adding them to to pan drippings to make a sauce or stir into mashed potatoes for a delicious kick. Variety is key in making sure meals are satisfying and gobbled up.
#SpreadtheFlavor with these creative ideas
Chive Onion stirred into homemade mashed potatoes topped with crispy onions
Strawberry smeared on toasted waffles
Blueberry spread on a warm biscuit
Jalapeno mixed in your taco fillings
Garden Vegetable spread on a flatbread topped with mozzarella and veggies then baked
Is your mind working on how to incorporate this little bins of creamy goodness into your meal plan? Let me know what genius meal idea you come up with. As you can see my Walmart has so many flavors to choose from, I can never pick just one.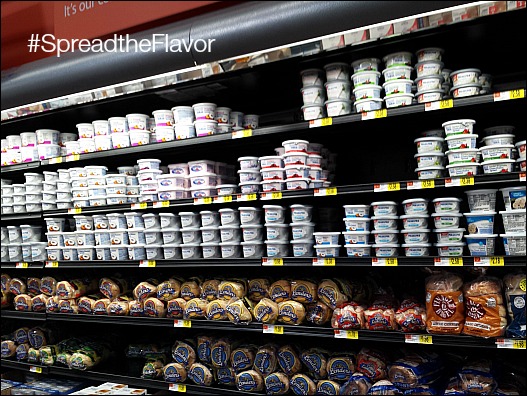 #SpreadTheFlavor #CollectiveBias #Shop