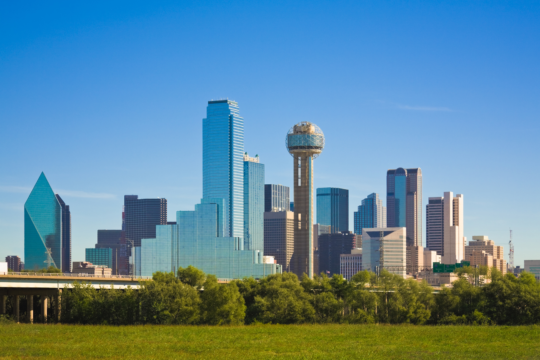 Relocating is not just exciting, it's also expensive. As with most booming cities, it's not cheap to live in Dallas. In fact, the average cost of living is well above the national average. But don't let this keep you from making the move!
If you're planning to relocate to Dallas in the near future, you'll want to know about the many ways that you can save money and lower your cost of living. Continue reading to learn about 7 different tips you can use to relocate to Dallas without breaking the bank.
1. Rent vs. Buying
One of the biggest decisions to make when relocating to a new city is whether to rent or buy. For most people, the deciding factor comes down to finances. Depending on where you live in Dallas, you may find that in some areas renting is cheaper, while in others, it's cheaper to buy.
Before making your decision, take the time to create a budget and compare the costs of renting vs. buying. This way you can have the peace of mind that you aren't moving to a location that you can't comfortably afford.
2. Know the Area (And Your Price Point)
There are tons of neighborhoods and towns in the greater Dallas metropolitan area. Your price point for housing costs each month will greatly dictate where in the city you end up living. The most affordable Dallas suburbs include:
Mesquite
Lancaster
Garland
Balch Springs
These are great neighborhoods for people looking to live near the city without the overly expensive costs. If you have a larger housing budget, you'll want to consider Highland Park, Southlake, or Grapevine.
3. Move Cheaply
Relocating to a new city doesn't have to cost you a fortune. There are many ways you can save money on moving costs so that you aren't left strapped for cash once you arrive at your new home. To start, determine if it's cheaper to move on your own or to hire professional movers. If you're relocating to Dallas from a far distance, you may find it cheaper and less of a hassle to use professional movers. When moving on your own, choose a storage pod over a moving truck.
Other ways to save money during the move include finding free boxes, using old blankets to protect furniture, and packing lightly. While it can be hard to part with items that you've owned for years, if you don't need it, don't move it! The more items you move, the more expensive the process will be.
4. Save Money on Internet Costs
In today's world, having access to the internet is a necessity more so than a luxury. No matter if you're a student, run a business from home, or someone who spends a lot of time surfing the web, having internet service is a must. When relocating to Dallas, you'll want to ensure that you're getting the best deal when choosing internet service. To make the decision process a little easier, you can search for the best internet providers in Dallas on digitalexits.com to find the provider that meets your needs without going over budget.
5. Bundle Home Entertainment Services
Rarely will you find a household that only has internet. If you also plan to have television and phone services, you can save a lot of money by bundling these services through the same provider. By bundling at-home services, you can save money each month without sacrificing picture quality or losing access to your favorite channels.
There are many providers to choose from in and around the city including AT&T, Cable One, and Frontier.
6. Be Energy Efficient
Hot summer and cold winters can cause a serious uptick in energy costs, which means increased monthly bills. While you can't control the temperature, you can make your home more energy efficient. To save money on energy and utility costs:
Take shorter showers
Unplug devices when they aren't in use
Install CFL or LED light bulbs
Use a programmable thermostat
Reduce hot water heater temperature
The more energy efficient your home is, the more money you can save on heating, cooling, and electric costs.
7. Use Public Transportation
One of the biggest benefits of living near a large city is access to public transportation. Dallas offers various transportation options, including the Dallas Area Rapid Transit (DART). The light rail runs four different lines and travels 93 miles along its routes.
Depending on where you live in Dallas, you may also benefit from carpooling or even bicycling to work. If public transportation isn't an option, you can cut transportation costs by walking or bicycling as often as possible, especially on the weekends.
Conclusion
Using these tips, you can save plenty of money when relocating to an expensive city like Dallas. You can also reduce your cost of living and make your money go much further.