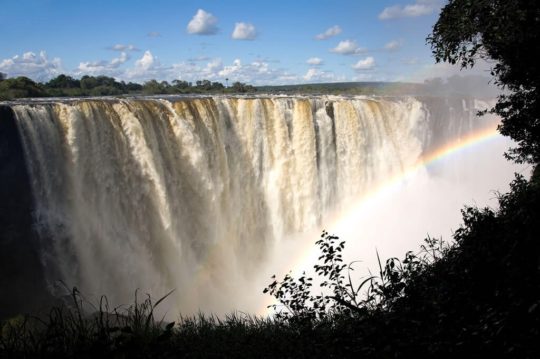 Victoria falls serves as symbol of beauty and exploration, with a number of people having ventured from shores far and wide to discover the beauty of this famous landmark on their way to discovering new land.
One of the most famous is the renowned David Livingstone, who remains synonymous with the continent of Africa and its incredible natural wilderness. In 1855, it was Livingstone who first set eyes on the natural wonder that is Victoria Falls, which straddles Zimbabwe and Zambia and has become one of the most iconic landmarks anywhere in the world.
Each year, with more couples, families and solo nomads booking African safari holidays that include a trip to this wonderful site, we've prepared this brief guide to Victoria Falls below.
What is Victoria Falls?
While it's hard to do justice to this site with mere words alone, Victoria Falls is a vast and idyllic curtain of water that towers over 100 metres tall and is more than a mile wide.
Positioned over the Zambezi River, it's estimated to be the largest waterfall in the world, while Livingstone's suggestion that it was the most beautiful thing he'd ever seen is hard to dispute my any conceivable measure.
In 2008, the site was included as part of a 2008 project to create the new 'Seven Natural Wonders of the World', while the popularisation of African safari packages has made it more accessible to a whole new generation of people.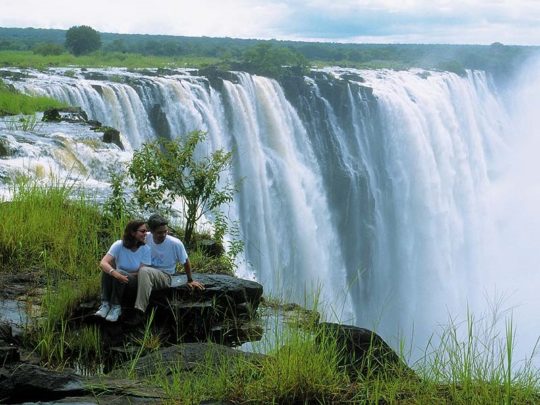 Travelling to Victoria Falls – The Key Considerations
Once you've decided to book a safari trip that includes a visit to Victoria Falls, the next step is to plan the logistics and ensure that you're prepared for every eventuality.
To begin with, you need to know that both the waterfall and the surrounding town are known as Victoria Falls. The former sits a little outside the central area, while all of the local accommodation, restaurants and amenities sit within the borders of the town.
As if this wasn't confusing enough, those arriving by air will also land at the Victoria Falls airport, which sits 20 minutes outside of the main town and in a slightly more rural area.
The best way to reach and access Victoria Falls is through Zimbabwe, as there's a main road that passes through the town centre and it takes you to the cusp of the iconic waterfall. From here, it's a 15-minute walk to the main site, and one of the most unique and life-affirming experiences known to man.
In terms of cost, there's a standard adult rate of $30 for non-Zimbabweans (although this may well increase at the turn of the new financial year). This is a single- entry fee, and should you leave the site for anytime you'll have to pay the same amount again to enjoy the same level of access.
The site itself can be enjoyed by undertaking a self-guided tour, which encompasses 16 separate viewing points. Interestingly, the first viewpoint sits just beyond the David Livingstone statute, while it takes an average of between one and two hours to complete the tour.
A trip to Victoria falls should definitely be included in your safari experience, just make sure you plan well and book with a reputable provider before you set off on your travels.