Heading out to the beach this summer? After you pack some healthy snacks for the whole family, you'll probably spend some time figuring out what to wear. However, don't allow yourself to become obsessed with achieving a perfect body just to wear something revealing. When you've got kids, going to the beach should be about having fun.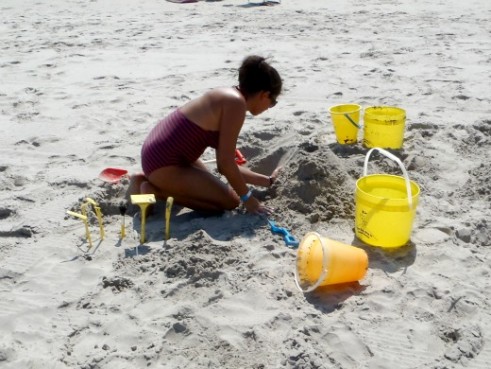 You don't need an impossibly perfect figure to look and feel good on the beach. Here's how to be comfortable and look good on the beach no matter what:
1. Forget about being "beach body ready"
Looking good isn't about having a perfect body, it's about exuding genuine confidence wherever you go. Take Susan Boyle, for example. She wasn't born with the good looks everyone fusses over, but you can't help but feel overwhelmed by her depth when she sings. Her confidence and talent make her look good.
Erase the belief that looking good has anything to do with body shape or size. Otherwise, you'll create an ideal body image and spend your whole life trying to achieve it. When your kids want to go to the beach, you'll find excuses to stay home.
You won't look or feel good crouched in the corner of your beach canopy, refusing to walk around because your body isn't perfect. Dropping the idea of an ideal beach body allows you to feel good about yourself and
2. Wear shapewear if it makes you feel good
Some women reject shapewear, but if it makes you feel good, embrace it – that's what it's made for. Wearing shapewear doesn't mean you don't love your body. It means you're willing to wear something that makes you feel comfortable and confident.
To illustrate this point, the Shapermint shapewear brand produced a two-minute video demonstrating the point that society's opinions don't matter. All that matters is what you think of yourself. Shapewear simply helps some women feel more confident and satisfied with themselves.
Shapewear that doubles as swimwear is the best option for the beach. It's easier to wear, and it eliminates the need to layer up on a hot day.
3. Get the scoop on the latest beach hacks
If you're feeling stressed out, you're not going to feel good overall. Check out some of these beach hacks for moms to get a handle on some of the more frustrating aspects of beach time.
For instance, instead of rubbing you or your kids' feet raw trying to get the sand off, rub it off with a little baby powder. It's painless and easy. Another trick is to freeze aloe vera in an ice cube tray to soothe a sunburn before it blisters. You could use aloe vera gel as it is, but it feels better ice cold. If you're easily frustrated by messy juice pouches that leak through the straw hole, freeze a water bottle filled halfway, but place the bottle on its side in the freezer. When you're ready for a cold drink, cut the juice pouch with scissors and pour the juice in the bottle to chill. No messy pouches or straws!
4. Don't worry about getting sandy and wet
If you want to look good on the beach, all you need to do is look like you're enjoying yourself. It's a different kind of "looking good," but it's the best kind because it doesn't take anyone else's opinion into account.
You're going to the beach. You're going to get sandy, wet, and possibly muddy. Your kids are going to throw sand in your face, even when you tell them not to. Wear clothes that feel comfortable and clothes you don't mind getting soaked.
Enjoy the beach with your kids
Going to the beach with your kids should be a fun adventure, not a stressful attempt to impress strangers. Don't make your beach time unnecessarily stressful by worrying about whether or not you're in shape. Just go, have fun, and enjoy those precious moments with your kids.