All the great hotels in Midtown East Manhattan have one thing in common: location. They're all close to the Midtown attractions that make NYC famous, such as the Empire State Building, Fifth Avenue, Times Square, the Grand Central Terminal, the Museum of Modern Art and so many more.
But certain hotels bring something special beyond their great locations. Each of the top hotels below is known for offering guests that priceless experience: a flawless visit.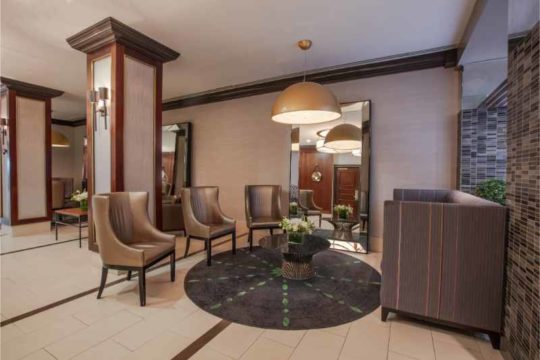 Being out and about in New York City can be noisy and intense, and no one wants to come home to rude staff and lackluster lodgings. Fortunately, it doesn't need to cost more to stay at a hotel that knows how to graciously meet a traveler's needs, with happy staff who genuinely want guests to have a great stay and who proudly do a stellar job each day and night.
The Concorde
One of NYC's newest boutique hotels, the Concorde has 37 floors, with four rooms or fewer per floor. It's close to MOMA and St. Patrick's Cathedral. Possible room views include the Queensboro Bridge, the East River and the Chrysler Building! The decor is contemporary. There's no on-site restaurant, but the multilingual staff will gladly recommend the best of nearby restaurants, and the hotel provides pleasant, private indoor and outdoor seating areas where you can enjoy your to-go food if you like.
The bathrooms come with a tub for soaking and a rainfall shower, plus bathrobes for your use. You can rent a bike here, and of course, there's free wi-fi, a fitness center, a business center and a 24-hour front desk.
The Westgate New York Grand Central Hotel
It's always a shame for a wonderful hotel to have the shadow of its predecessor upon it, but the Westgate NYC is now forging its own excellent reputation, and reviews have improved since this hotel left Hilton. It's close to everything, located a block from the United Nations and a couple of blocks from the Empire State Building, in the Murray Hill neighborhood, known for its Indian restaurants and friendly pubs, its consulates and U.N. missions.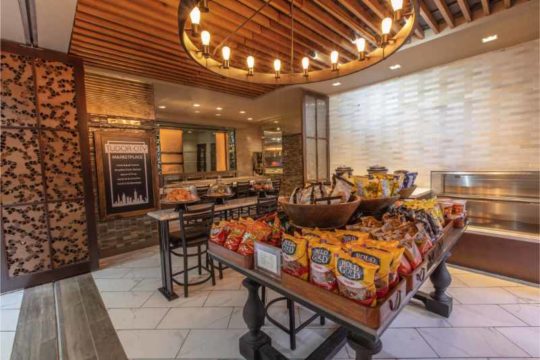 The Westgate New York Grand Central (westgateresorts.com/hotels/new-york/midtown-manhattan/westgate-new-york-grand-central/) has invested in triple-pane windows, and guests describe the rooms as "super-quiet." Is there anything more precious in NYC? The Westgate NYC lets you choose your own preference in a Serenity mattress, and the linens and pillows are luxurious. Rooms are well-appointed, with sitting areas and wooden desks. The showers have plenty of hot water, and the towels earn rave reviews. The Westgate NYC is family-friendly, and pet-friendly also. Get a balcony room if you can — the balconies are huge and furnished with a table and chairs so you can dine al fresco, or just enjoy the city views.
The Kimberley Hotel & Suites
The Kimberley boutique hotel is close to Central Park, Rockefeller Center, Grand Central Terminal and Times Square. It's located at 145 East 50th Street, between Third and Lexington Avenues. "Upstairs" is the name of its rooftop bar, which, awesomely, is open year-round, being equipped with heated floors and a retractable glass roof and walls.
The Kimberley is known for its feather-bed mattress toppers and its Frette Italian luxury linens. Amenities include thick towels, a microwave, mini-fridge, hairdryer and magnifying mirror. The Kimberley's decor is traditional, with antique-style furnishings. The rooms have large windows, many with city views. Most rooms have balconies!
Not only does the Kimberley have an on-site fitness center, but hotel guests can also, at no additional cost, use the facilities at the nine locations of the New York Health and Racquet Club, including swimming pools and fitness classes. In season, guests can even take a cruise on the Club's yacht, including a light buffet, for only $30!
The Hotel Elysée by Library Hotel Collection
Food plays a big part in guests' stays at the Hotel Elysée, from the complimentary continental breakfast (boiled eggs, pastries, yogurt, cereals, and bagels!) to the complimentary evening wine and cheese get-together, not forgetting the cookies, tea, coffee and fruit available all day. The hotel's Monkey Bar serves lunch and dinner during the week and dinner on Saturdays. Many guests comment on the great happy hour and appetizers.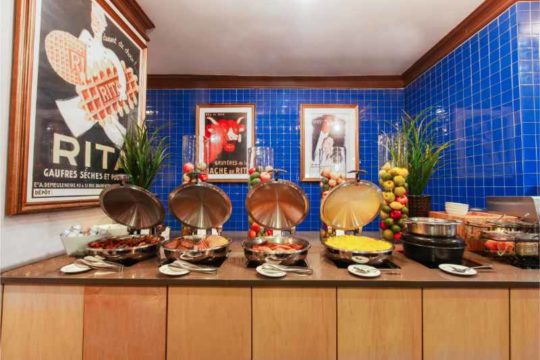 The Hotel Elysée's decor is French country inn, with Art Deco touches. Broadway is close by, and yet the neighborhood is fairly quiet.
Manhattan's Midtown East is so full of world-class pleasures. These hotels work hard to be one of them!