Halloween means getting ready for the trick-or-treat shenanigans. Halloween costumes can get expensive and more often than not finding something that makes you and your kid happy can be difficult. Make your own costume or you're thinking of a 
Harry Potter character costume
 isn't difficult. Here are some ideas to help your kids make their own costumes.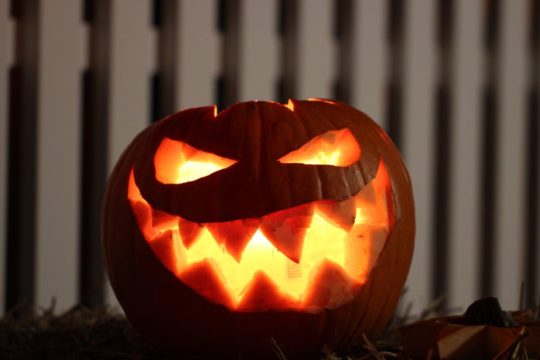 1. Baby Shark Baby Costume
If you start singing as soon as you listen to Baby Shark, then you are well aware of how the tune had taken over the internet a while back. Dressing your kid up as one of the annoyingly funny Internet meme cultures can be a fun idea. Kids anyway look adorable in shark costumes.
All you need is:
Grey hoodie
Pink, white, and black felt
Hot glue gun and hot glue sticks
Grey footie pajamas
2. Donut Costume
Kids love dressing up as desserts. They also look adorable in them and most desserts are easy to replicate at home using felt and basic clothes. You can dress your kids in basic beige overalls and then for the donut – draw a circle on the cardboard, cut to shape, add tan or brown felt for the donut. Add other colors to glaze it to represent your kid's favorite one. Add velcros to attach the pieces of cardboard donut to your kid and you are done.
All you need is:
Round objects to trace
Cardboard
Pencil
Scissors or Craft knife
Tan or brown felt
Hot glue gun and hot glue sticks
Self-adhesive Velcro squares
Fabric glue and paintbrush (optional)
Any other color paint or felt for the glaze or sprinkles (optional)
3. Dragon Costume
Dragons are somehow one of the favorite toys kids will play with, one of their favorite characters they will draw and want to be. It is actually easy to make a DIY dragon costume if your kid is okay with not going into too much detail. You can get a onesie in the color that your kid wants their costume to be.
Take bubble wrap and roll it into a tapered tail shape, you can also do that with cardboard and then cover it with felt but bubble wrap gives a more realistic feel. Use a duct tape the same color as the onesie and cover the tail with it to match the costume. Make spikes and attach the tails and spikes to the onesie or top and pants that you choose. You can also add face painting if you want.
All you need is:
Bubble wrap (or cardboard)
Color onesie or top and pants
Color Duct tape
Scissors
Self-adhesive Velcro
4. Unicorn Costume
Unicorn is one of the most popular mythical creatures especially for little girls who are in an all things glitter and sparkles phase. All this costume takes is an all-white outfit and a unicorn horn to make your kid happy. You can DIY the horn with some foam or by making a cardboard cone or felt cone stuffed with cotton and covering it in glittering then attaching it to a headband. Cut two ear shapes and attach them to the headband as well.
All you need is:
Off-white outfit
Cardboard or felt and stuffing
Glitter
Headband
Hot glue gun and hot glue sticks
5. Medusa Costume
If your kid is going for a costume party or a competition. This is one of the easy ways to make a creative outfit for cheap and with minimal efforts. No fancy crafting is required. Buy tons of plastic snakes and/or rubber snakes depending on how realistic you want it to look. Attach the snakes with zip ties or hot glue gun to the headband to make snake hair. Do the same for the neckpiece. Add some eye makeup and you are done. If you want you can spray paint the headpiece in a uniform color. Pair it with a dark gown and you are done.
All you need is:
A dark gown
Plastic snacks and/or rubber snakes
Zip ties or Hot glue gun and sticks
Headbands
Scissors
Final Thoughts
Making costumes can be a fun process. Make sure to involve your kids when you make their costumes. This gives them a chance to be creative and to wear their creations. When they are a part of the process, they feel proud of the costume and it makes Halloween more fun for them. Costumes are supposed to make you happy, putting efforts into their own costumes and watching their ideas come to life is sure to make your kids happy.