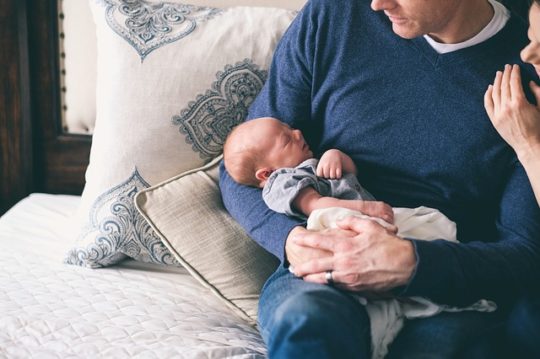 After she gives birth, the new mother needs help both physically and emotionally. The emotional side means giving her a mental break from the intensive care of the beautiful new baby. The physical side means giving her a break to do things for herself. You want to be the best Dad you can be the one. Here are some of the things to think about:
1. Exhaustion
If you are exhausted, remember mom is even more exhausted. Think about ways to help her and encourage her to get enough rest and feel loved. The stronger the mama, the better for the baby.
2. Peaceful environment
Set up an environment that is peaceful. This is a sweet, beautiful time with your family and it can also be very emotional. Keep the place neat and tidy. Fresh air, some light music, healthy food, candles at night, a kiss and a hug and a thank you to mom for making such a beautiful baby. The "little things" make a huge difference.
3. Be there for her
Anything and everything mom asks you to do, you have to do, or she would not be too happy? Take proper care regarding her diet. If possible take a vacation from work. If mom is sore, ask her if she wants a back rub or a massage. Sometimes, just by being there for her and offering to do what she needs is enough to show her that you care.
4. Learn to change diapers
Always make sure to check the diaper often and change it whenever needed. Go ahead and use as many wipes as you need. The goal is to keep your kid clean, so do what it takes to get it done. You should also take great care while bathing your baby.
5. Spend enough time with your baby
Bring the baby to mom, don't let her get up. If bottle feeding, then feed the baby. Don't assume all the feedings have to fall on mom, and she would love it if you would take on some of the feedings. This is especially true at night. It is a great idea to come up with a schedule that works for both mom and dad about who gets up with the baby and when. This means that both can get enough amount of sleep.
6. Help mom with laundry and shopping
It might feel quite overwhelming but remember how she manages all such things. Do the necessary shopping required for the mom and the baby. Also, cook her fresh and healthy meals. Make sure she is eating three wholesome meals a day that is full of proteins and nutrients, not much sugary and fatty foods. Give her green leafy vegetables, fruits and plenty of water.
7. Show appreciation
Let her know that she is doing an amazing job. Point out where you think she is doing great. Tell her that you are proud of her and how much you love her. Encourage her to go out of the house once in a while, and connect with other moms. Do ask her time tot time if she needs something. At such times, all of her attention is going to be on the baby, so someone needs to look after her needs.