Since the worldwide blockbuster Despicable Me entertained audiences around the globe in 2010, grossing more than $540 million Gru has ben a doting dad to his girls, Margo, Edith and Agnes and an aspiring entrepreneur. Life has been calm and actually quite boring that is until he is visited by Lucy Wilde, a secret agent who overpower's Gru's infamous "freeze ray" and kidnaps him.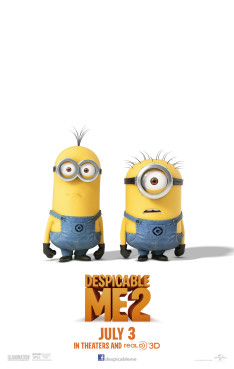 This entire experience puts Gru back in the game just on a different team.. As a new member of the Anti-Villain League (AVL) Gru and his new partner Lucy work to bring down a super-villain called El Macho that not only wants to the take over the world but also tear apart Gru's extended family.  The minions are in trouble and Gru along with the help of the girls and loyal Dr Nefario.
Rob, Shaun, Shae and I got the chance to see an early screening of Despicable Me 2 in White Marsh, MD (our old stomping grounds) and we loved it. Rob and I sat on opposite ends of the kids and I heard him chuckling throughout the entire film. Despicable Me 2 was written for ALL audiences. From Gru's dating catastrophes to the soulful music of Pharrell Williams this movie is definitely going to be a family favorite no matter who is in your family.

I dare you NOT to dance to this song, HAPPY. The guy that was sitting next to me almost jumped out of his chair he was moving so much!