That's my kid's favorite line in the movie Despicable Me. We had the opportunity to see the movie in 3D before it was released back in July and we loved it!
In a happy suburban neighborhood surrounded by white picket fences with flowering rose bushes, sits a black house with a dead lawn. Unbeknownst to the neighbors, hidden deep beneath this home is a vast secret hideout. Surrounded by an army of tireless, little yellow Minions, we discover Gru (Steve Carell), planning the biggest heist in the history of the world. He is going to steal the moon. Yes, the moon!
Gru delights in all things wicked. Armed with his arsenal of shrink rays, freeze rays and battle-ready vehicles for land and air, he vanquishes all who stand in his way. Until the day he encounters the immense will of three little orphaned girls who look at him and see something that no one else has ever seen: a potential Dad.
One of the world's greatest super-villains has just met his greatest challenge: three little girls named Margo, Edith and Agnes.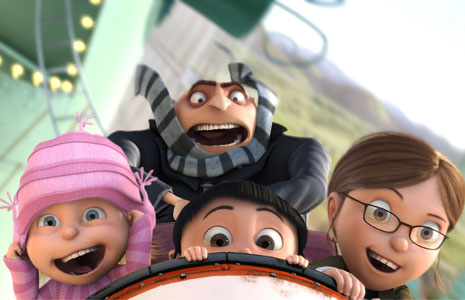 Despicable Me was released on December 14th on Blu-ray & DVD. It was a must get on our holiday shopping and has proved to be the most popular gift of the season. For about the 1st 2 weeks it was on about two or three times a day. We've cut it down to every other day now but it's still a favorite of everyone's in the house.
We were able to get the 3 Disc Combo pack which includes the Blu-ray copy, DVD and Digital copy perfect for iTunes. Along with watching the feature film this copy includes 3 mini movies starring the Minions. Anyone remember Walter the minion, we took him to the beach for a little vacay the Shae tried to drown him in a bucket. The extra bonus features have proved to be a hit too! Shae likes to play Super Silly Fun Land and win prizes along with Edith, Agnes and Margo.
If you haven't already got Despicable Me in your movie library I highly recommend it!
This is a sponsored post but the opinions and descriptions presented belong solely to LookWhatMomFound…and Dad too! Your experiences and reactions may differ from ours.