As a Carnival Cruise Line Ambassador it is my duty to let you know of all the fun things onboard. For years I thought I would be scared or bored on a cruise ship. I also never thought it would be an adventure for the whole family.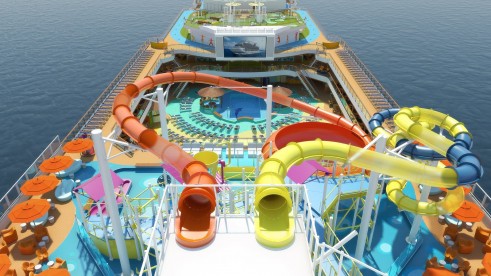 If you followed along our Carnival Dream vacation last year you'll know I was dead wrong. Carnival caters to the whole family. Starting with Camp Carnival for the youngest all the way up to Cloud 9 Spa for the moms and dads. We enjoyed parties, music, concerts, movies, shows, crafts, activities, food and swimming each and every day. Honestly, there wasn't enough time in the day to take in all the amenities.
Carnivals newest addition is the Magic, the cruise line's largest ship yet. The Magic has upgraded Waterworks with a more elaborate onboard waterpark that includes a dump bucket that pours HUNDREDS of gallons of water on unsuspecting sunbathers.

Parents aren't left out of the fun either. The RedFrog Pub is hangout for adults, where they can get together, have a drink and enjoy the live entertainment and gameroom. Whether it's the largest ship or a local ship I guarantee you'll have a blast on a Carnival Cruise with the whole family.