I remember when car companies thought lighted mirrors were an attraction for women.  When I bought my Ford Taurus many years ago the salesman pointed out safety and comfort features to Rob and pointed out the DUAL visor mirrors to me as if I'd be impressed.  Today the clever cargo features offered in the new Ford Escape can be appreciated by moms and dads alike.
I'm the kind of mom that transports a first aid kit, blankets, games, reusable bags and more in the car for the just in case moment.  Having 3 kids can make one realize the surprises that may creep up on you.  The new Ford Escape offers little features with big impact for families on the go.  Personally I love the umbrella spot.  There is nothing worse than having a wet handbag or shoes because your wet umbrella doesn't have it's own space.  A Handsfree Liftgate is awesome too. While the liftgate isn't hard to open on my Ford Freestar there are always those time when getting the keyfob out proves difficult because of a sleeping child, hands full of bags or purse left in front seat.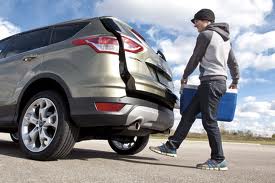 Unique storage spots include:
Overhead visors with ticket holders for parking or toll tickets
Hidden storage bin under the 2nd row floor
Small umbrella holders on both the driver and passenger seat trim panels
A card holder below and a stowage bin above the center of the instrument panel
Center console space to hold a 1-liter bottle, MP3 player or  CDs
Eight cupholders overall – four in the front and rear doors, two in the front center console and two in the optional folding 2nd row armrest
Rear cargo management system
Convenient USB ports in the center console and 110-volt inverter located at the back of the floor console for easy plug-in of laptops, cell phone chargers or other electronics
Check out what the Ford Escape has to offer for your family.