There's something about opening the drawers to my vanity and seeing all of the Cattiva Cosmetics bling that makes me smile.

My most recent review product is the Shadow Crease Brush. If you know me you know I'm a eye shadow collector. I love the color and drama I can easily add with bright and deep and vibrant colors. With the collection of eye shadows comes drawer full of brushes. The Shadow Crease Brush is awesome because it's dual tip makes it 2 brushes in one. The fluffy side is for all over shadow on the lid and the tighter angle is for applying in the crease. I add another extra fluffy brush to the mix for my brow color and that's all I need.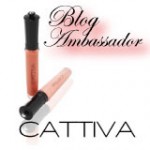 While Cattiva Cosmetics give off a luxurious special occasion feel they certainly have become my basics. The eye liner, lip gloss and new Shadow Crease Brush have made their way into my purse so I have go to color wherever I am. I use the Bellaza Blush/Bronzer Mineral Duo over my foundation almost daily and the mascara has made it way onto my eyes more often than I originally anticipated since I'm not usually a mascara wearer. While I love my Mineral Quad Eyeshadow it gets left behind because of the lack of case.
Cattiva Cosmetics is chock full of antioxidants, minerals and anti-aging properties allowing your true beauty to shine through.