What is better than getting to drive an awesome new car for the week except maybe owning that awesome new car but I must say that I really enjoyed my week behind the wheel of the 2012 Kia Sorento EX AWD.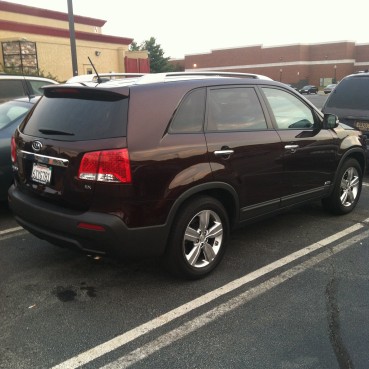 My commute to work one way is about 52 miles which takes about an hour with no traffic but could take as long as 1.5-2 hours depending on traffic.  Having the Sorento get me through the daily traffic for an entire week was terrific.  It was super comfortable to drive and had a ton of awesome features like Sirius Satellite radio, blue tooth enabled phone and navigation.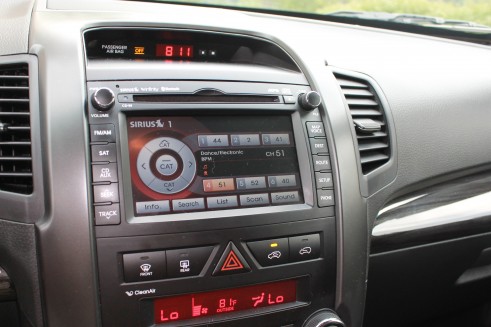 The Kia Sorento that we got to review was a dark cherry/black color with black leather interior.  To me there is nothing better than the feel and smell of new leather interior and I instantly feel in love and this was just the beginning.  Sitting behind the wheel looking at all of the controls threw me into a little bit of overload since neither of our two cars have anywhere near this many features.  Our Sorento had an AM/FM radio with Sirius Satellite radio, navigation, blue tooth enabled phone, backup camera and iPhone connection.   That was just the entertainment features then I saw the dual heated leather seats, climate control settings and dual power seats and darn near lost my mind. 
Ok, so that I don't totally forget some of the features of the Kia Sorento that I really enjoyed I will list them for you now:
AM/FM/CD/MP3/SiriusXM Satellite Radio Audio System – What more could you ask for and I love Howard Stern so it col to have Sirius.
Infinity Surround Sound Audio System w/10 speakers – Shaun asked me on numerous occasions to turn the radio up so we could jam to Maroon 5.
Navigation System & Rear Camera Display – backup camera was a little hard to get use to because I was afraid I was still going to hit something or someone.
Push Button Start w/Smart Key – Really cool that you can start the car with the SmartKey in your pocket.
Eco Minder Indicator – Told me when I was achieving optimum fuel economy which is awesome since gas in Delaware is $3.47/gallon.
Auto-dimming Mirror w/Homelink – This is cool because cars behind you won't blind you and I like that on the rear view mirror there are buttons that you can use to control your garage door.
Power folding outside mirrors – hit the lock button twice on the SmartKey and the vehicle locks and the mirrors fold in. TOO COOL!
8-Way Power Driver's Seat and Lumbar Support – Seats were soooooo comfortable and with all of the different settings it seems impossible for anyone not to be comfortable while driving this vehicle.
Third Row 50/50 Split Folding Seats – Since we are a family of 5 the third row came in handy but didn't figure out until the last day that the passenger seat in the second row folds up allowing easy access to the third row.  LOL, we aren't the smartest people in case you haven't noticed.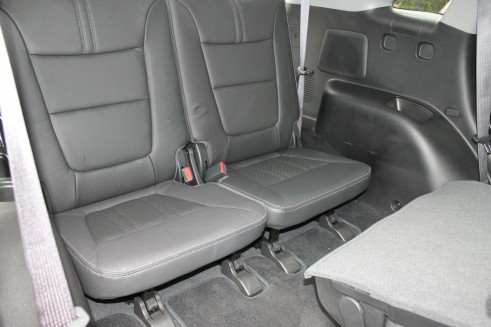 These are just a few of the highlights for me but it had so many more cool little features that you probably would never even think about but make the Kia Sorento a really nice vehicle.   
All in all an AWESOME vehicle and definitely a vehicle I would consider buying.  The Sorento offered a really comfortable ride and I must admit I was a little sad when they picked it up.