"The Hunt: 11 Days of Doing" is a campaign started by DoSomething.org to spread the word about multiple issues that affect the world around us. "The Hunt" asks you to do different challenges everyday for eleven days, each one dealing with a different cause. This campaign strives to get people thinking, talking and doing something about key issues in today's world and making their community a better place.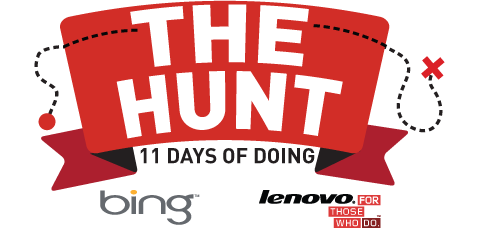 This campaign is in it's second year and currently has over 16K participants with more joining every day. To get involved individuals sign up on DoSomething.org/hunt to receive daily challenges. The challenges are posted at 11:11 am EST online or can be sent to via text message or email. Anyone can participate whether it's as an individual or as a group of friends, family or co-workers. Most of the challenges are incredibly simple and can be completed in less than an hour. They range from researching an interesting statistic and sharing through social media to going out and donating to a local food pantry or animal shelter.

By participating in the challenges, you have the opportunity to win some amazing prizes. At the end of the project, one person will be selected to win a $1000 scholarship for themselves and everyone else on their team. Everyday one team or individual who completes the ULTRA bonus challenge will receive a Lenovo Ultrabook. The grand prize winner or winners who complete the most challenges will be sent to Los Angeles for the 2012 Do Something Awards and be honored at the award ceremony and receive a Lenovo Ultrabook.
Though the project has already begun, you can still participate fully. By going to their website, you can see all of the previous challenges and submit your photos at anytime before July 23rd.
DoSomething.org, the nation's largest organization for teens and social change, has partnered with Lenovo, the world's second largest PC maker who helped found the campaign last year, and Bing, the search engine from Microsoft, to launch "The Hunt: 11 Days of Doing." I have been compensated by Mom Bloggers Club to share this information with you.