Macy's wants you to have a million reasons to believe. All over the country Macy's stores are inviting you and your family to give hope to another family. Help make wishes come true by bringing a stamped letter to Santa at the North Pole. Simply dropping this into the special Santa Letterbox will count as a $1 donation to Make-A-Wish Foundation up to $1,000,000.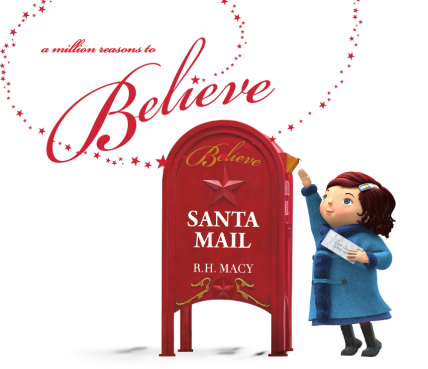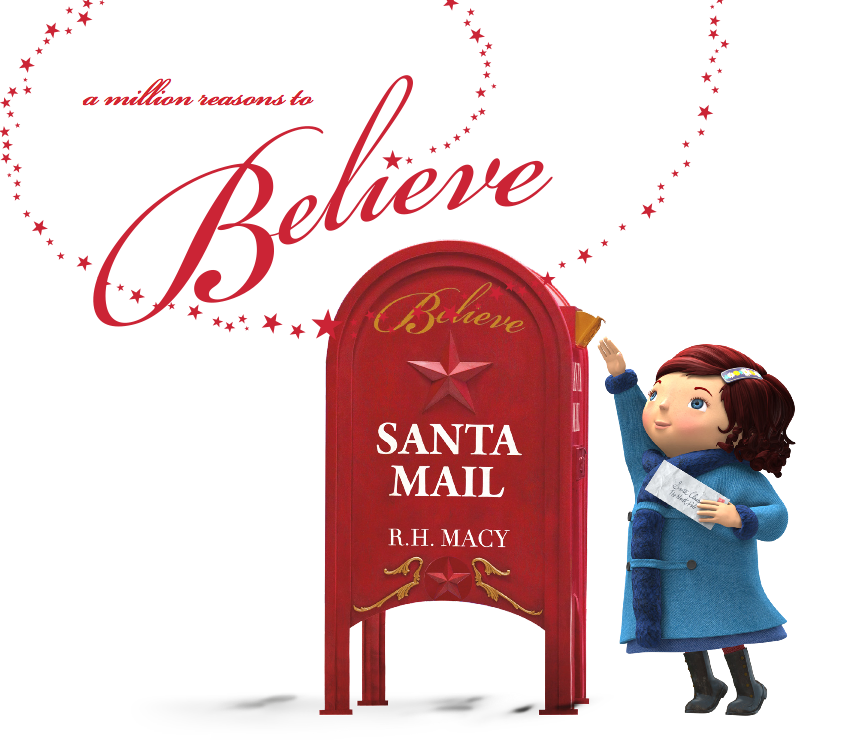 All letters will be delivered to the Post Office to be mailed directly to Santa at the North Pole.
The Macy's National Santa Tour is headed our way to hear what's on your child's wishlist. Santa will be dropping by select Macy's store with Virginia.
In 1897, a girl named Virginia wrote a letter to the editor of the New York Sun asking if Santa truly exists. The editor, in response, published a letter than assured her that Santa exists as surely as beauty and joy exist. One must simply have the courage to shun the cynicism and have faith in things that can't always be seen. And for those spirited ones, Santa will always exist.
We are headed to Christiana Mall on December 8th to see Santa and drop the kid's letters in the special letterbox.

These Macy's stores have upcoming events with Santa appearances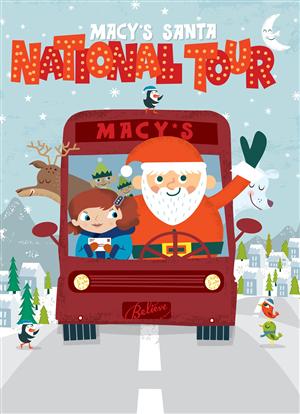 December 2nd at 2pm
Holyoke Mall at Ingleside
Holyoke, Massachusetts 01040
Santa will arrive at the East Entrance by Women's Shoes
December 3rd at 6pm
Macy's Santa Ana Mainplace
Santa Ana, CA 92705
Third Floor
Santa will arrive at the Courtyard Doors
December 4th at 6pm
Macy's Cape Cod
Hyannis, MA 02601
Kid's Department
Santa will arrive at the Route 132 Entrance
December 5th at 6pm
Macy's Chula Vista
Kids Department (Level 3)
Santa will arrive at the Cosmetics Entrance
December 6th at 6pm
Macy's Providence Place
Providence, RI 02903
Santa will arrive at the Francis Street Entrance
December 7th at 6pm
Macy's Chandler Fashion Square
Chandler, AZ 85226
Kids Department
Santa will arrive at the Main Level Shoe Department Entrance
December 8th at 2pm
Macy's Christina Mall
Newark, DE, 19702
Kids Department, Level 2
Santa will arrive at Men's Department North Entrance
December 9th at 2pm
Macy's Valley Fair
W. Valley City, UT 84119
Kids Department
Santa will arrive at the South Entrance
December 10th at 6pm
Macy's Motgomery Mall
Bethesda, MD 20817
Kids Department
Santa will arrive at the Ladies Suits Entrance
December 11th at 6pm
Macy's Park Meadows
Littleton, CO 80124
Second Floor
Santa will arrive at the Entrance facing Park Meadows Drive
December 12th at 6pm
Macy's Peninsula Town Center
Hampton, VA, 23666
Second Floor
Santa will arrive at the Jewelry Department Entrance
December 14th at 6:30pm
Macy's Vista Ridge
Lewisville, TX 75067
Level One
Santa will arrive at the Women's Shoes Entrance
December 15th at 6pm
Macy's Oak Court
Memphis, TN, 38117
Main Level
Santa will arrive at the Cosmetics Entrance
December 16th at 1pm
Macy's Woodland Hills
Tulsa, OK 74133
Second Level
Santa will arrive at the Men's Entrance facing Memorial Street
December 17th at 6pm
Macy's Brookwood Village
Birmingham, AL 35209
Second Floor
Santa will arrive at the East Entrance on the Lower Level
December 18th at 6pm
Macy's West County
St. Louis, MO, 63131
Main Floor
Santa will arrive on the Main Level I-270 Entrance
December 19th at 6pm
Macy's Town Center at Cobb
Kennesaw, GA 30144
Lower Level
Santa will arrive at the South Entrance on the Main Level
December 20th at 6pm
Macy's Cherry Vale
Rockford, IL, 61112
Main Floor
Santa will arrive at the East Entrance on the Main Level
December 21st at 6pm
Macy's Edison Mall
Fort Myers, FL 33901
First Floor