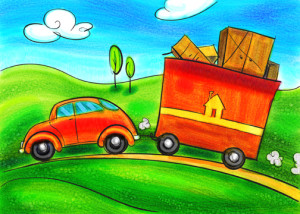 Buying a new home is one of the most important purchases you will ever make in your life so you need to make sure you are 100% ready before making that leap.
Believe it or not Melinda and I haven't gotten to this point yet for one reason or another.  The main reason is because we have moved around a lot due to my different jobs and another reason is we aren't 100% sure where we would like to settle for good.  Personal finances play a part in this equation as well and seeing the amount of foreclosures in America makes me think twice about ever wanting to buy a new home.
For those of you that are in the process of buying a new home and will be planning on moving in the near future here are a few times that might be useful:
Be sure to put in a change of address at the post office as well as changing your address with your bank, employer and any other place where they might be sending you financial documents or checks.
Keep all important documents in a safe during your move so that you know everything is safe and secure.
When buying new furniture and items for your new home using a credit card with a small credit limit is better than using a debit card.
If your new home doesn't have a locking mailbox be sure to replace it with one that does as soon as possible.
Be sure to use LifeLock to monitor your credit because they are relentless in helping you protect your identity so you can have peace of mind while enjoying your new house.
Also, don't forget to play the  LifeLock for Life Sweepstakes on Facebook where all you need to do is "LIKE" LifeLock on Facebook then visit the LifeLock for Life tab and begin playing by answering different questions for great prizes.  For the month of January and February the questions will be focusing on buying a new home so make sure you play every week for a chance to win some really cool prizes.
Be sure to follow LifeLock on Twitter, Facebook and Google +
I have received compensation for my participation as a LifeLock Ambassador but ALL opinions are my own.