The running joke in our house is someone yelling "ICE" and that is because recently I received the Newair AI-215SS Stainless Steel Portable Ice Maker for review.
The Newair AI-215SS makes ice every 13 minutes which is good because in our house we go through a ton of it in a day plus the ice maker in our freezer hasn't been working for a few months. You can imagine how many times in a day someone yells "ICE" because every 13 minutes or less new ice is made.  It has become a game that has gone as far as Sabreena texting me "ICE" when I am not home just so that I am in the ice loop.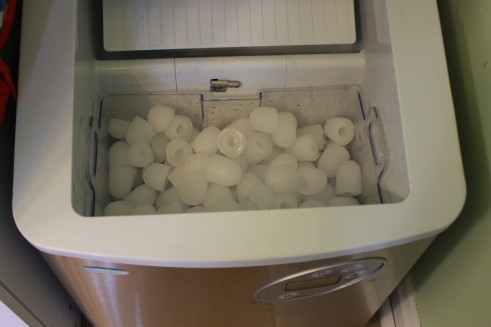 So far I really like having the Newair AI-215SS in the house because of its simple setup and because of how easy it is to use.  From box to ice cubes was about 15-20 minutes and remember I said it takes 13 minutes to make ice so set up is really that fast.  All you have to do it take it out of the box, plug it in, fill the water tank (located under the ice bin) with about a half gallon of water, select your ice size and walk away. Come back in 10-15 minutes and you will have ice!
The Newair AI-215SS allows you to select one of three ice sizes; small, medium and large which is cool so you can select what size you want based on your individual needs.  I used the large ice setting and to me they are the perfect little bullets.  The machine will make 12 bullet shaped ice cubes at a time and will fill the basket in about two hours (approx).
Here are a few more features and details:
18 hour timer for on-time ice production
Removable ice bin for easy distribution
Quick cycle time makes ice in 13 minutes
Side mounted drain for easy cleanup
LCD display makes operating this machine easy
Makes up to 50 lbs. of ice per day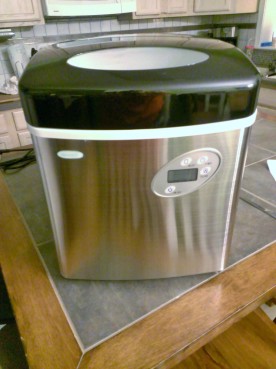 Now that I have this new toy I am looking forward to hosting parties this summer because we love to use our margarita machine but it runs through a lot of ice.  Now that I have the Newair AI-215SS Stainless Steel Portable Ice Maker that will no longer be a problem and I will be able to make tasty beverages all day long and not have to worry about running out of ice.
Do you use a lot of ice at your house? Would the Newair AI-215SS Stainless Steel Portable Ice Maker come in handy?