The first Earth Day on April 22, 1970, activated 20 million Americans from all walks of life and is widely credited with launching the modern environmental movement. Today you can find green efforts everywhere you turn.  Brands are working towards reducing their carbon footprint, local recycling centers are charged with reducing landfill piles and everyday people are working towards reducing their waste using more renewable resources.
In our home we actively recycle, plant a veggie garden, use less toxic cleaning products and reuse and upcycle items.  Kids Crafts can be done more green too. I try not to buy too many crafting supplies and use what we have or find items that can be recycled.  Paper lunch bags are something we keep in the house but don't really use since the kids pack lunch boxes with reusable containers.
Making this Paper Bag Tree is a great Earth Day craft because one of the best things you can do on this day is plant a tree.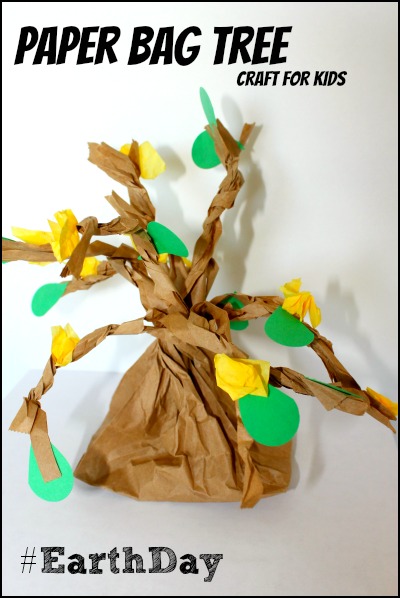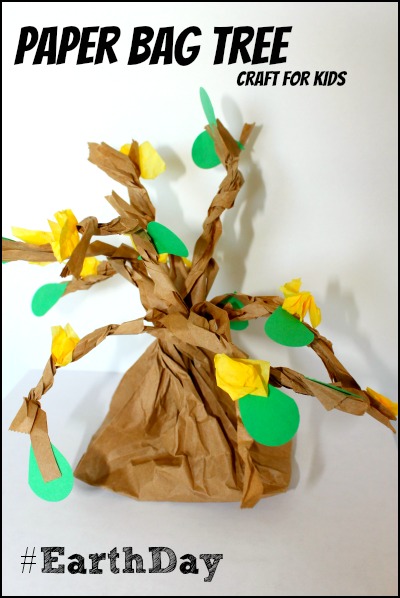 Supplies
lunchsize paper bag
green paper for leaves
colored tissue paper for flowers
glue
kid safe scissors (I also usually keep lefty scissors on hand too in case someone comes over that needs them.)
heart hole punch, optional
Directions
I drew lines a little more than halfway down the bag so Shae could cut to get her branches.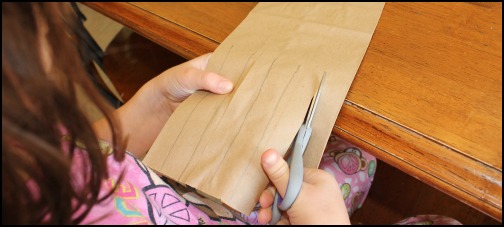 Once all the lines were cut, Shae opened up the the base of the bag to make a trunk and started scrunching up the pieces of bag to get her branches.
Once the strips of paper have softened up it's time to twist them into branches.  Be careful not to twist too hard or you'll rip them.  Take 2-4 strips at a time and gently turn them in your fingers to get a branch-like shape.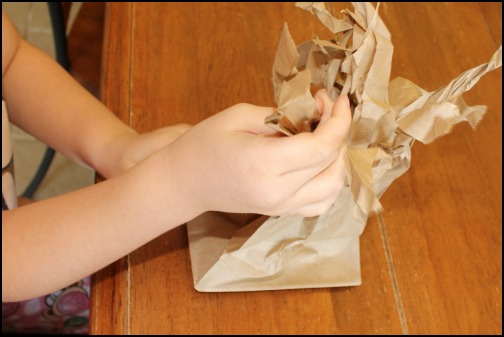 Now it's time to make your leaves and flowers.  Leaves can be hand cut or can be made by cutting a heart shape in half.
Colored tissue paper cut into about 2″ squares in your child's choice of color is all that is needed for flowers.  Have them pinch them and add a dab of glue to stick them onto their tree along with their leaves.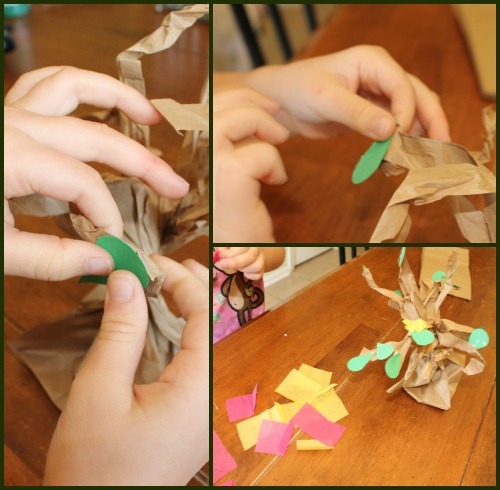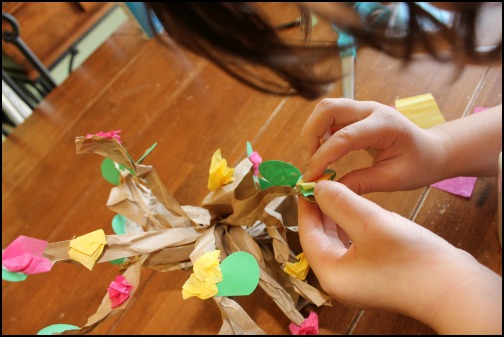 Make some final adjustments and twists and your paper bag tree is done.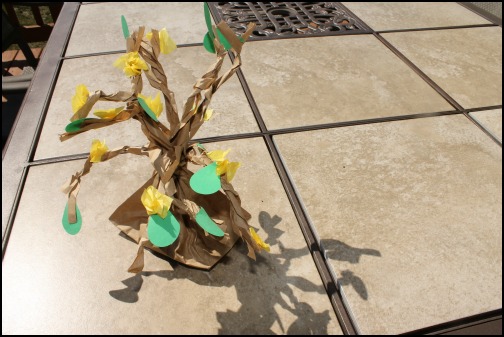 This can be modified with brown or green paint to give it more dimension.  Stuffing the bag loosely with a napkin or ad of paper will give it more standing power if you are worried about it falling over. Pre cutting the strips and tissue paper and leaves are simple ways to make this more toddler and preschool age friendly.
What are your plans for Earth Day this year?