By now hopefully you realize that #kidsinthekitchen is about more than just letting the kids mix cookie dough or slice strawberries. In our home the kitchen in the backdrop for just about anything we have going on. Homework is done there, conversations about our schedule are discussed there, we eat meals as a family there and ofcourse we prep those meals there.  The kitchen is also the place where we educate, create and play. Crafts and activities are HUGE in our home. They aren't always blogged about but there is usually something happening each day.
This week we are playing with our food again.  Colored Rice is an incredibly popular medium to stimulate sensory awareness, work on color recognition and work on fine and gross motor skills.  In our house we play with it because it's pretty and fun to run our fingers through it.
While sitting at the kitchen island this week Shae was admiring the flowers Sabreena gave me for Mother's Day. Each day I sort through them, throw away the dead ones, change the water and re arrange them.  Shae then decided she wanted to make me flower that would last forever. This is when the colored rice comes in.


We pulled out  a piece of heavy cardstock, school glue, colored rice, popsicle stick, markers a couple fabric leaves from previously dismantle fabric flowers. I drew out  flower shape on the card stock and let her create my flower.
The trick to getting a nice layer of rice is to go heavy on the glue. Shae used a paintbrush to fill each petal with lots of glue and then over poured the rice so it would stick in every nook and cranny.


The clean up was simple, rice is easy to sweep up. This needs to dry overnight at the very least.

Did you have fun in the "kitchen" this week? Did you try a new food or a new kid friendly restaurant? Did your littlest ones use their snacks to count to 10? We invite you to share your experiences, photos, stories or recipes that include your #kidsinthekitchen.
Come join me and my co-hosts, Paula at Frosted Fingers and Sara at Sensibly Sara, each week linking up a post, new or old, that feature the theme Kids in the Kitchen. It doesn't matter what you are doing as long as you are doing it together, enjoying it and learning something along the way.
working on a craft
playing pretend restaurant
discovering a local restaurant that your kids love
creating new family friendly recipes
Don't have a blog? Share an instagram photo or Facebook update.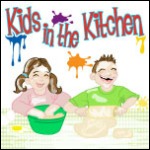 Kids in the Kitchen with LookWhatMomFound…and Dad too!
I can't wait to see the fun you worked on this week.