Last year I forked over $20 for a teeny tiny blueberry bush at a fancy schmancy nursery down the road. I was all excited to be able to harvest pints and pints of blueberries in my own backyard without spending $4.99 per container. The birds didn't like that idea and ate almost all of the berries before had a chance to get them into the house. Shae was the most disappointed. You see, I don't even like blueberries very much. I like them in muffins and in pancakes but I'm not one to snack on plain blueberries.
This year we took measures against the dumb birds. I dug up the bush and replanted it in a pot and it sits on the deck where we can keep an eye on it against the vultures I mean sparrows and robins.
Shae has been staking out the plant for the last few days. On Monday she saw one that was ready to pick and pick it she did. Wednesday she managed an entire handful and held onto them for an afternoon snack. This morning she got a small handful and ate them immediately. I keep telling her to wait a couple days in between or try saving them up for a recipe but she's not interested.


Letting my kids eat right from our own garden might be one of the most satisfying feelings ever. The tomatoes, peppers and beans might not be ready to pick but just knowing there will be entire meals dedicated from what they have grown makes me feel good as a mother.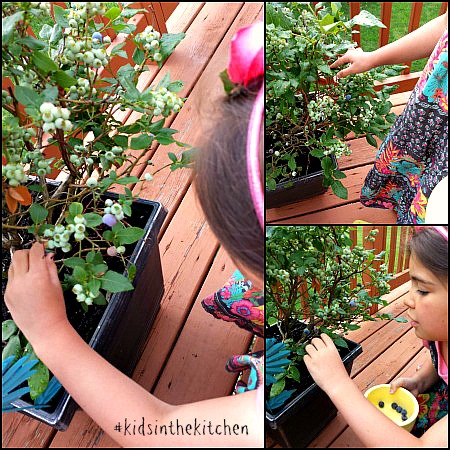 Did you have fun in the "kitchen" this week? Did you try a new food or a new kid friendly restaurant? Did your littlest ones use their snacks to count to 10? We invite you to share your experiences, photos, stories or recipes that include your #kidsinthekitchen.
Come join me and my co-hosts, Paula at Frosted Fingers and Sara at Sensibly Sara, each week linking up a post, new or old, that feature the theme Kids in the Kitchen. It doesn't matter what you are doing as long as you are doing it together, enjoying it and learning something along the way.
preparing healthy snacks
having a tea party
discovering a local restaurant that your kids love
creating new family friendly recipes
Don't have a blog? Share an instagram photo or Facebook update.