The temperature dropped about 15 degrees in the last couple of days. I'm now sporting pants and sweatshirts and shoes that require socks.  With this dip in the weather comes the longing for comforting and nourishing food that warms the belly.  SOUP.  I love soup of all kinds but it's not the most popular in this house. I told the kids  they were getting Corn Chicken Chowder for dinner and surprisingly I was greeted with OHs and mmmmmms.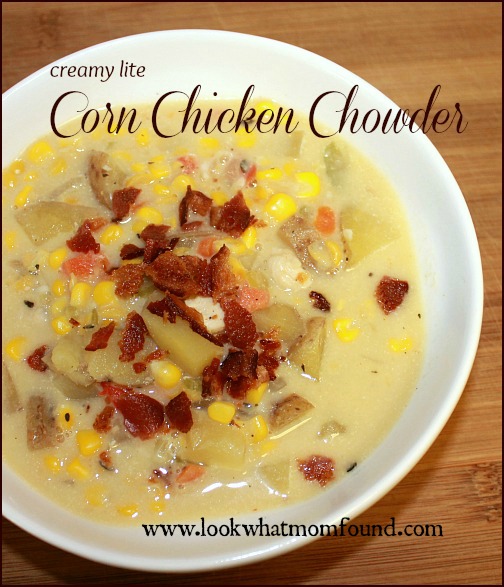 I've only ever had Corn Chowder from one place, WAWA.  While I always like it I knew it was missing a freshness. I also knew  it wasn't at all healthy. I made my own soup using inspiration from several recipes found online and adapting to my own tastes, time and ingredients. The ingredient list looks long but most of it can already be found in your pantry and fridge.
Light but Creamy Corn Chicken Chowder
Ingredients
3 slices of uncooked bacon
2 cups of diced chicken (cooked or uncooked)
2 lbs diced potatoes
1 small diced onion
2 stalks diced celery
1 cup diced carrots
1/2 cup diced red pepper
3 chopped garlic cloves
1 1/2 tsp dried thyme
salt and pepper
3 cups corn kernels (fresh or frozen)
1 can cream style corn
3-4 cups chicken broth
1/2 -1 cup light half & half
pinch of Cayenne
Directions
In a large stock pot or dutch oven add your bacon and turn the heat up to medium.  I add mine in whole slices but you can chop it before hand. It WILL be used at the end.
When the bacon has crisped and rendered all of its fat remove it and all but 1 TBLS of the grease.
Add the potatoes, a sprinkle of salt and pepper and stir into the bacon grease and sauté for a few minutes. If your chicken is raw now is a good time it to capture some of the yummy bacon flavor.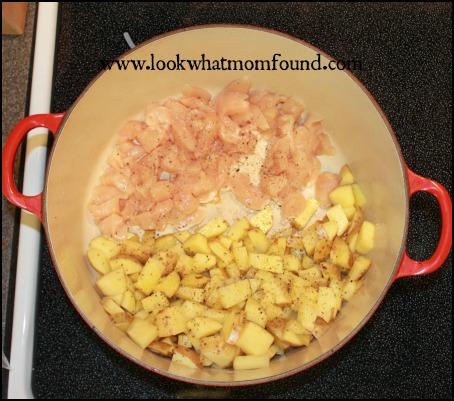 Once the chicken has mostly cooked through add in the rest of the veggies(except corn) the garlic and thyme. Cook for a several minutes till veggies soften then add corn and canned corn and salt and pepper if needed. If you are using cooked or leftover chicken now is the time to add it.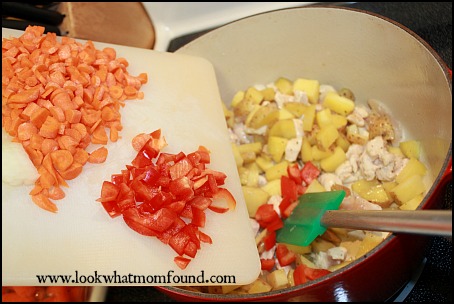 Add broth and simmer till potatoes are cooked through. Using a hand masher work through the soup to smash some potatoes, this will naturally thicken the soup instead of adding flour or cornstarch.
Add half & half and cayenne, stir and serve. Top with crumbled bacon.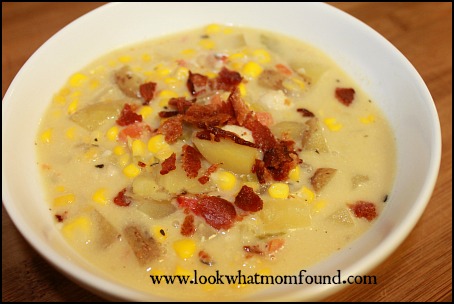 Additional toppings could be sliced green onions, shredded cheese or sour cream.  The smashing of the potatoes and addition of SOME half and half make this a creamy soup without the guilt of heavy cream and lots of butter.  In fact besides the initial bacon slices there was additional oil added.  The key is to have flavorful ingredients.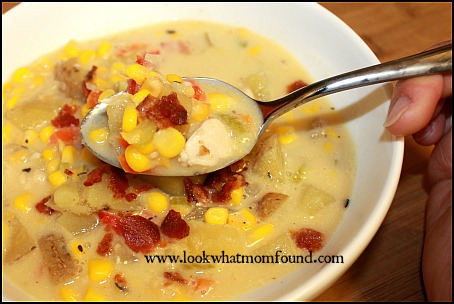 Celery is key, switch other veggies to suit your tastes but don't skip the celery.