Way back in the day when  we were just a family of 4 I spent a Christmas finding the "perfect" stockings and stocking hangers to display on our mantel.  I trudged out in the cold, snipped fresh holly branches and weave tiny twinkling lights through them and flaunted the beautiful design I had come up with.  Fast forward to the next 6 years and you'll see only 3 stockings each Christmas attached to anything that had a flat surface. This year when the note came through that I could pick out new stockings for the whole family from Personal Creations I almost leapt out of my seat.  I knew we'd finally have what I've been wanting for a long time, these Ribbon Stockings personalized with our names.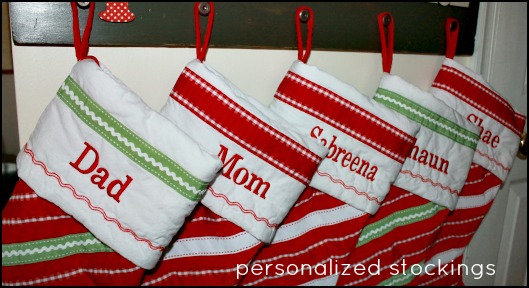 Personal Creations carries a HUGE selection for just about everyone.  The best part of their choices are most of them can be personalized to reflect a name, initial, special date or even more.  With hundreds of gifts to choose from for any occasion Personal Creations can be your shopping destination throughout the year.
I knew our stocking were on their way so I knew I had to come up with a new idea to hang all five of them. this house does not have the fireplace mantel that we used to have so I knew I had to get creative.  I scoured our makeshift workshop and found something that would work perfectly with some tweaking.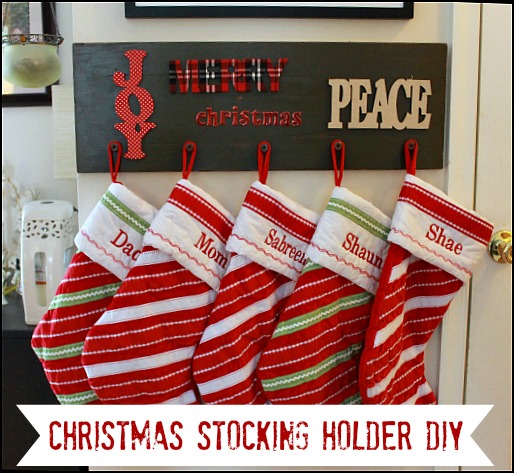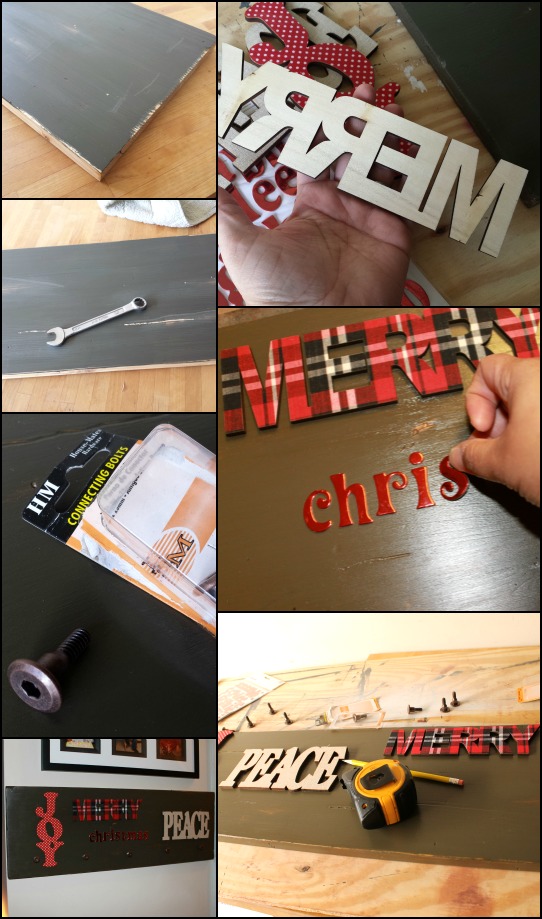 Using a simple unused wood shelf, existing paint & stain and some bought decorations and hardware I came up this Christmas Stocking Holder. The project was very easy. I painted and stained a plain wood shelf till I achieved a color I like and took an old wrench and a hammer to it to add some distressed details.  The words and stickers were less than $10 from the craft store and Rob found these antique brass bolts. I thought there were a unique and better alternative to plain hooks.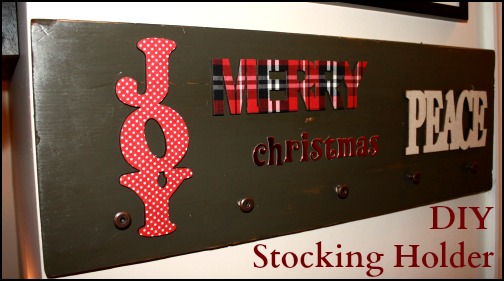 The stockings look great hanging up.  Even without a mantel they stand out with this special new home. I'm not forgetting about our new ornament.  Each year I get new ornaments for the kids or family that mark a significant point in the year or commemorate another wonderful year together.  The Family in Bed ornament was adorable and I knew it was a good fit for our family.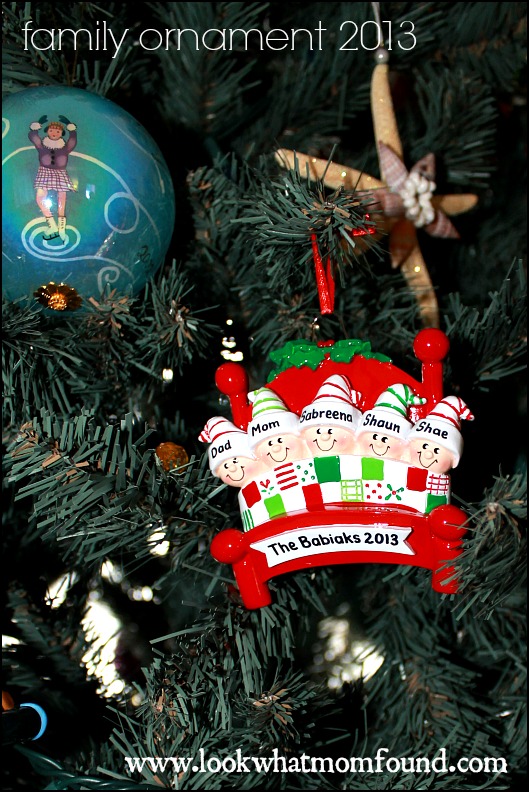 This ornament will stay on the family tree but individual ornaments that the kids received are put right on their own trees. When they are grown up and have families of their own they'll have a great start for the holidays and great stories and memories to share.
Shop today for your own personalized ornaments and stockings to ensure availability and delivery in time for the holidays. Personal Creations is offering you 20% off all of your purchases through the end of December. Click here to start shopping and the 20% will be applied in your shopping cart.
Follow Personal Creations Blogger Board: Christmas Ideas on Pinterest