We're getting ready for the holidays around here. The decorations are up, the baking has started and the gifts are piling up in their secret spot.  The kids are on a snack kick. Shaun is only ten but can eat like a man so I have to come up with new ideas. This Garlic Parmesan Chex Mix is a new snack mix that I prefer much better than chips or cookies.  And the best thing was he was able to make it pretty much on his own.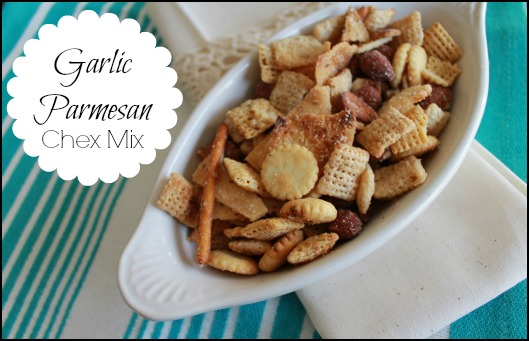 The idea for Chex Mix is simple, put together a bowl of related ingredients, add the flavoring and mix it up.  To get an extra crunch on savory mixes I like to toss them in oven for 10 minutes. For sweet mixes I like to pop in the fridge for the chocolate or caramel to harden up.
Shaun made this one for Rob because he knows his dad loves snacking food while watching tv. I like getting him in the kitchen helping out as much as possible. His attention span for cooking is short so I need to keep him busy. Chex Mix does the trick because there's a lot of measuring and mixing he can do.  Stove work is ok too as long as I'm right next to him.
Ingredients
2 cups Rice Chex
2 cups Corn Chex
1 cup broken bagel or pita chips
1 1/2 cup pretzel sticks
1 cup oyster crackers
1 cup lightly salted, roasted almonds
1/2 stick butter
1/4 cup olive oil
1/2 tsp salt
1/4 tsp pepper
1/2 tsp garlic powder
1 tsp dried oregano, crushed
1 tsp dried basil, crushed
pinch red pepper flakes, crushed
3/4 cup grated parmesan cheese
Directions
In a large bowl mix all of your snack ingredients.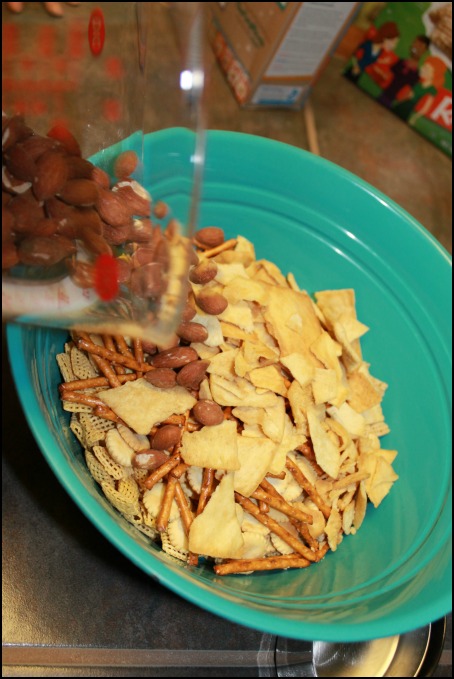 In a small saucepan over medium low heat combine butter, oil, herbs and spices and blend till hot but not bubbling.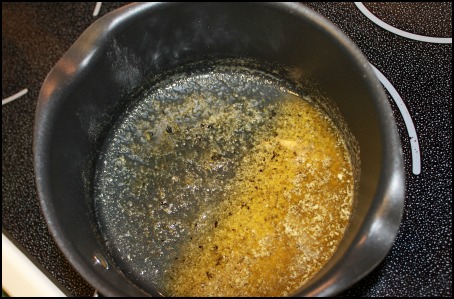 Pour over snack mix and gently but quickly stir to coat. Sprinkle cheese over mixture and blend again till coated.
Pour onto a cookie sheet and pop into a 350° oven for 10-12 minutes.  Let cool then enjoy.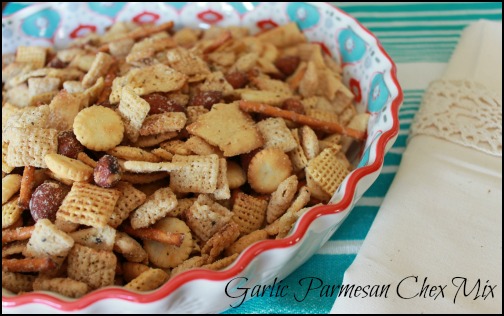 The beauty of these snack mixes is you can adjust the ingredients to suit your tastes. Adding popcorn, goldfish, bacon bits or even switching the nuts can make any snacker happy. The same goes for the flavors.  If you enjoy the rosemary over oregano, make the switch.
These are simple go to recipes especially for the holidays. Get your kids in the kitchen and get their hands dirty with some mixing, prepping and cooking.
Come join me and my co-hosts, Sarah of Play to Learn with Sarah, Paula at Frosted Fingers and Sara at Sensibly Sara, each week linking up a post, new or old, that feature the theme Kids in the Kitchen. It doesn't matter what you are doing as long as you are doing it together, enjoying it and learning something along the way.
preparing healthy snacks
having a tea party
discovering a local restaurant that your kids love
creating new family friendly recipes
You'll find so many more ideas on the #KidsintheKitchen Pinterest Board.