With all the snow we had this week i vowed it would be a a baking week. Shae said "YAY" and Rob said "Nope, not for you".  Her poor little spirit was crushed. Ok, it really wasn't, she knew he was kidding. I decided on a couple of things but this is what turn out successful. Baked Soft Pretzels.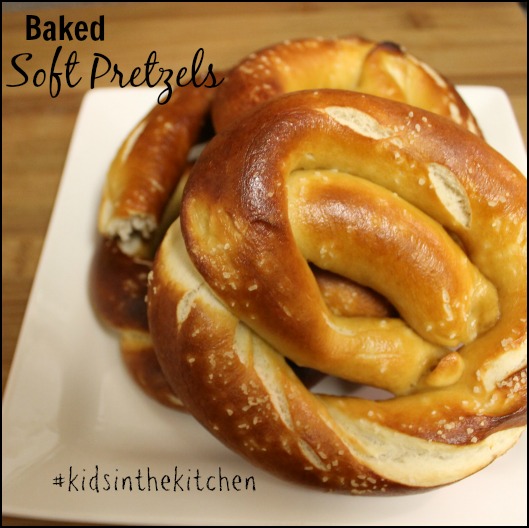 Soft Baked Pretzels were made and they will be made again and again and again. They were THAT good.  The whole process wasn't hard. As with just about any recipe where dough is used it's a long process but so worth it. Next time we are doubling.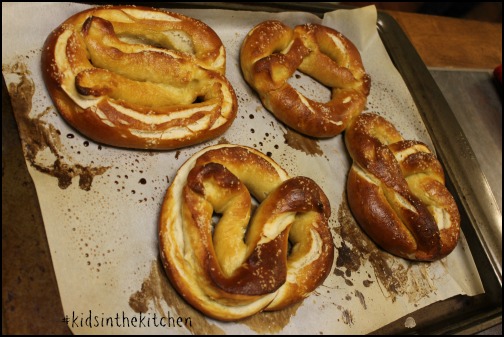 We followed Alton Brown's Homemade Soft Pretzel recipe from 2007 to a tee, no adjustments, no modifications, just as he posts it here.  Watch Shae roll out and shape the pretzels all on her own. We ate them while they were still hot with spicy brown mustard and honey mustard.
Come join me and my co-hosts, Sarah of Play to Learn with Sarah, Paula at Frosted Fingers and Sara at Sensibly Sara, each week linking up a post, new or old, that feature the theme Kids in the Kitchen. It doesn't matter what you are doing as long as you are doing it together, enjoying it and learning something along the way.
preparing healthy snacks
having a tea party
discovering a local restaurant that your kids love
creating new family friendly recipes
You'll find so many more ideas on the #KidsintheKitchen Pinterest Board.
Follow Melinda Babiak's board #KidsintheKitchen on Pinterest.