In honor of Earth Day 2014 (today) I'm sharing an upcycle project I did a couple week back. In a spring cleaning frenzy I cleaned out the kids drawers of outgrown clothing. This gorgeous blue satiny and lace shirt was in the pile. Sabreena picked it up in a thrift store but it never really fit right. It killed me to get rid of it, the lace was so pretty so I figured I could create something pretty with it. This Lace Covered Candle Holder was the perfect fit.
I had an empty Yankee Candle jar, a sleeker shape than the traditional jar, cleaned it really well and ran it through the dishwasher. I left the lace intact as I covered it. i didn't want any cuts or gaps.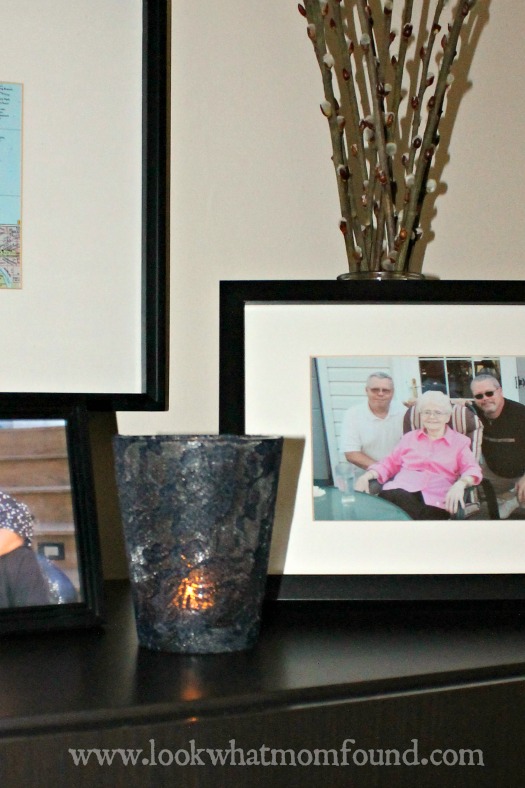 With some glossy mod podge I started to attached the lace.
I worked in small sections so the lace stayed taut and in place. I left each section for 15 minutes so it set up then worked on another section and pulled the lace over the mod podge again.
I covered the entire piece of lace with mod podge again once the jar was covered. This gave it it's final sheen. Using super sharp scissors I trimmed the lace off the top and bottom of the jar leaving a clean finish. I might go back and trim with wide grosgrain ribbon.
A lit tealight is enough light to shine through to still see the intricate lace pattern.
I have another jar, still have wax in it, but that will be transformed into a Lace Candle Holder too.