Breakfast seems to be the most quiet part of the day lately. The kids are waking up groggy and zombielike. This comes from a day of play in the sun and pool. I obviously want to start them off with a good breakfast. Shae asks for eggs and toast all the time. At age 6 some might think she's not ready to cook but out of the 3 of them she's the most comfortable in the kitchen. I taught her how to make Eggs in a Hole or as some people call it Toad in a Hole. I don't understand where "toad" comes from.

Anyway, we started with the cutting a circle out of her bread. She used her juice cup, it was the perfect fit.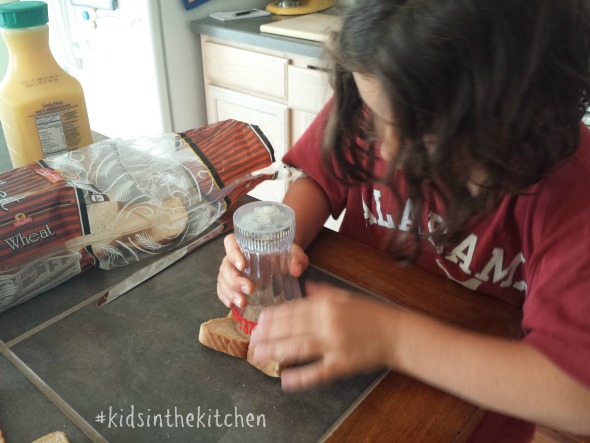 In a large buttered skillet over medium heat she added her toast pieces then slowly poured a cracked (but not scrambled) egg into the hole.
Slowly is the key. The heat of the pan will set the egg and you're less likely to get spillage under the toast. If the egg does leak out just press down on edges of the bread for a moment.
She lightly sprinkled her egg with salt and pepper and I flipped them to cook on the other side.
Within 3-4 minutes her breakfast was cooked. I served this along with a yogurt and bowl of fruit and orange juice in her cup.
This method doesn't work very well for scrambled eggs though. None of the 3 times I tried did I have a successful "omelet" in my toast hole.
Come join me and my co-hosts, Sarah of Play to Learn with Sarah, Paula at Frosted Fingers and Sara at Sensibly Sara, each week linking up a post, new or old, that feature the theme Kids in the Kitchen. It doesn't matter what you are doing as long as you are doing it together, enjoying it and learning something along the way.
preparing healthy snacks
having a tea party
discovering a local restaurant that your kids love
creating new family friendly recipes
You'll find so many more ideas on the #KidsintheKitchen Pinterest Board.

Follow Melinda Babiak's board #KidsintheKitchen on Pinterest.