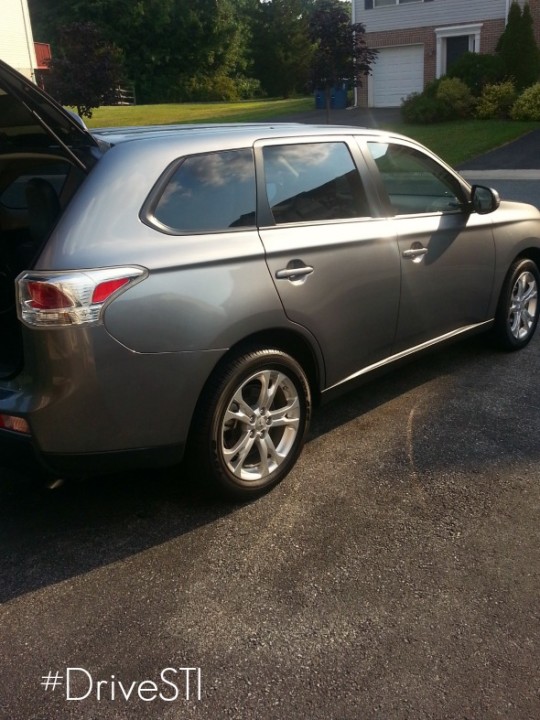 Most of you know by now that I love cars and I love doing car reviews since I have done at least 10 if not more.  I don't care that I only get to keep the vehicle for a week because for that week we like to use them to travel to different places that we have never been to before.  During the week we like to put the car to the test and see what we like and dislike about the vehicle.
Three weeks ago we received the 2014 Mitsubishi Outlander 2.4 SE S-AWC for review and we really put it to the test.  The first test was to drive 625 miles to Charleston SC to catch a cruise to the Caribbean and see how five people plus luggage would fit.  I am happy to report that all five of us fit as well as our luggage.  The 2014 Mitsubishi Outlander does have a 3rd row but we found that by using that 3rd row it took away from the cargo space ALOT. What we did instead was put all three kids in the second row which was tight and folded down the 3rd row to give us more cargo room which was great since we had a ton of luggage. Don't get me wrong it was tight (due to overpacking, LOL) and the luggage barely fit but it fit and to me that is all that matters.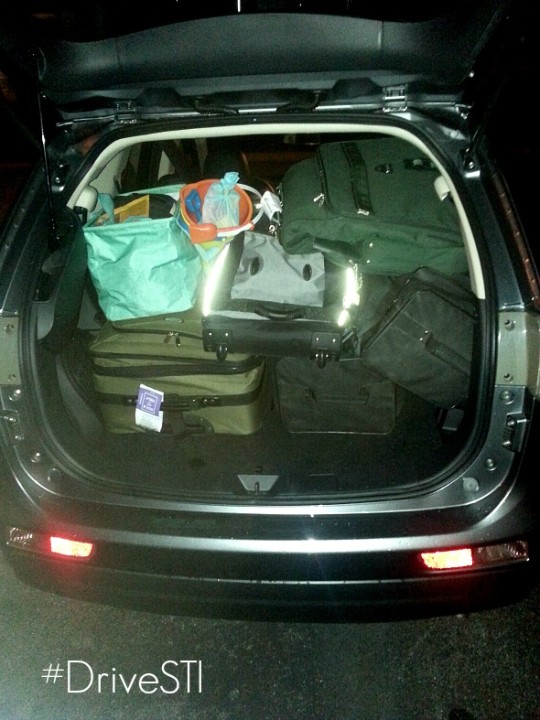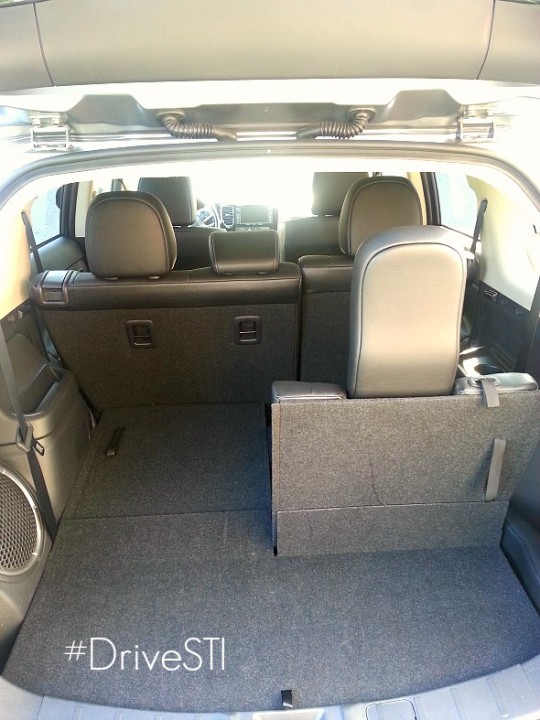 The 2014 Mitsubishi Outlander had a lot of nice features and a few that I absolutely hated.  The first thing that I loved was the way that the Mitsubishi drove as well as the acceleration.  I expected it to be weighed down with the five of us as well as luggage but it moved just fine with no problems.
Another great feature that I loved was the entertainment system which consisted of 7 inch touch screen with navigation and SiriusXM as well as a 710 watt Rockford Fosgate premium sound system (9 speakers including a 10 inch subwoofer with punch control). Melinda and I loved the sound system but not Shaun.  While on our way to South Carolina Melinda caught Shaun leaning his head on the back or her seat and every time she would tell Shaun to sit back.  The problem was that every time Shaun would sit back in his seat he said the bass from the sound system made him nauseous.  I guess Melinda and I like a lot of bass in our old school rap music.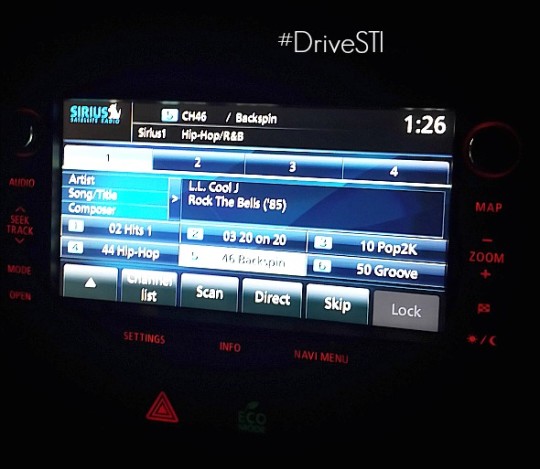 I also loved the power remote tail gate, rain-sensing wipers, fast key passive entry system and the one touch start/stop engine switch.  All of these features are not necessary items but let me tell you they are very nice features to have a just add to the overall appeal of the 20144 Mitsubishi Outlander.
There were two features of the Mitsubishi that I understand how and why they worked but I didn't care for the feature at all.
The first was the lane departure warning system.  Like I said I understand why this feature may be important to some but to me it was really annoying. Any time I was just a touch near the lane line the system would notify me with a loud annoying beep.  The good thing was this feature was able to be turned off and on with the touch of a button so as you may have guess this bad boy was turned off every time I drove.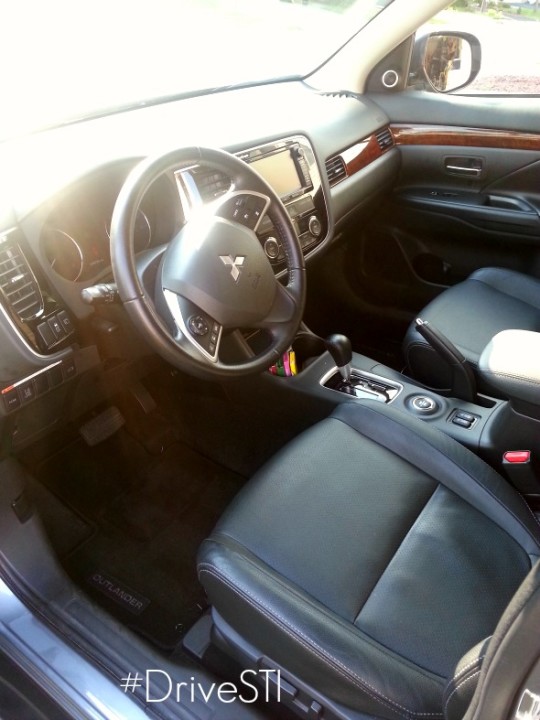 The other feature that I liked and disliked at the same time was the adaptive cruise control.  I do love using cruise control especially on this trip since it was 625 miles one way but the thing that was a little bit of a pain was the forward collision mitigation.  The system would detect when there was a car in front of me (not sure at what distance but it was a good distance away) it would slow the cruise control down until the car in front of me was no longer detected then it would continue back to my set cruising speed.  The overall function of this feature I liked but at times the car would slow down at such a rapid pace that it would actually jerk you in your seat.  I could understand this is happening if I was on the bumper of the car in front but this would happen when we were maybe 4 to 5 car lengths out.  Overall a really nice feature but at time it was a touch annoying for me.
Overall I really really enjoyed the 2014 Mitsubishi Outlander and everything that it had to offer.  If we didn't over pack I am sure the cargo space wouldn't have been an issue for us but that didn't take anything away from this vehicle.  It was packed with more features than I was able to use but every feature that I did use I really enjoyed.  It definitely was a very nice vehicle and got us to and from our vacation in style and comfort.