Get the new Dyson DC59 Motorhead today on QVC as Today's Special Value for just $449.99. That's a $100 reduction in price from it's retail price of $549.99. If you're a QVC shopper(like I am) you know that this kinda deal doesn't come along too often.
Dyson vacuums are renowned for their power, durability and maneuverability. The DC59 Motorhead is no different. In fact the direct drive motor in the cleanerhead makes it incredibly powerful on carpets, an area many people are always hesitant about when it comes to cordless vacuums, and it's still great for hard floors as well.
That's right! The only Dyson cordless vacuum with a direct-drive motor inside the cleaner head, the Dyson Digital Slim™ DC59 Motorhead has NO CORD, for hassle-free cleaning.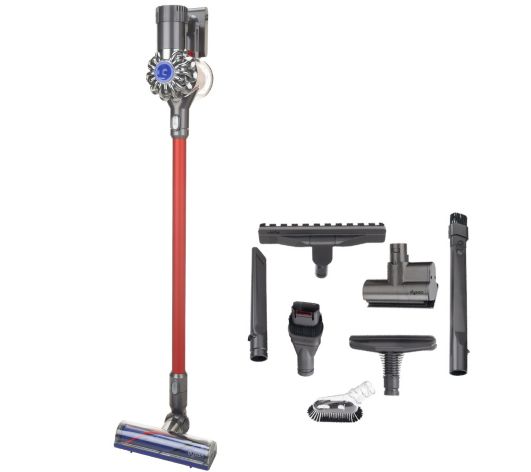 Dyson Digital Slim™ DC59 Motorhead on QVC
Run time: 20 minutes
 Hygienic bin emptying: Just push the button to release the dirt directly into the bin.
Weight: 4.96 lbs.
Tools included on Today's Special Value: soft dusting brush, flexi crevice tool, articulating hard floor tool, wide nozzle
Guarantee: The machine comes with a 2 year parts and labor warranty.
Availability: August 10 starting at 12AM (ET) till 11:59pm (ET) on QVC, QVC.com, the QVC apps or by calling 800.345.1515.
I got mine and love it. We recently added another dog to our family. A shedding dog at that. Sweeping 2-3 times a day wasn't fun and I found most of his hair was sticking to the broom. No more problems with the DC59 Motorhead. A few minutes of running this over our kitchen and living room floors picks up all the hair, bits of dog food and all the other dirt the dogs and kids track in all day long.
That's a day's worth of dog hair. I'm embarrassed.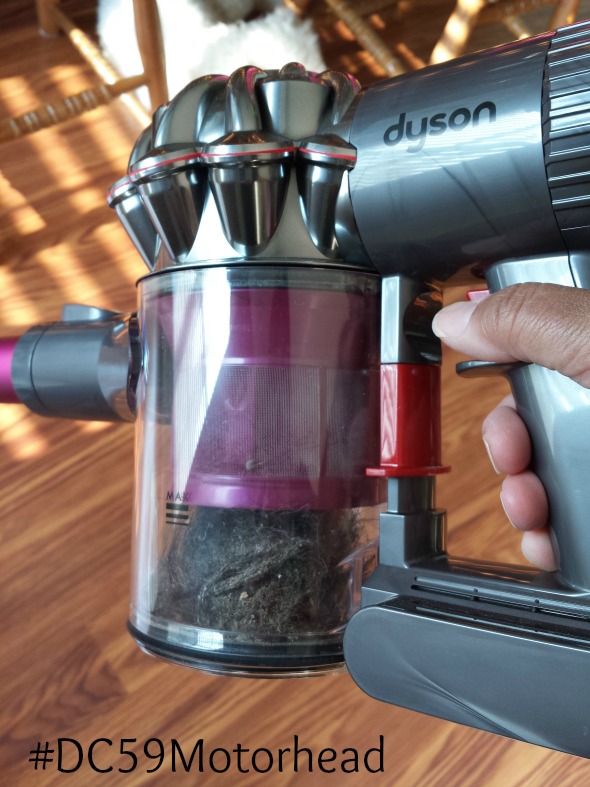 No dogs or vacuums were harmed the cleaning of this floor.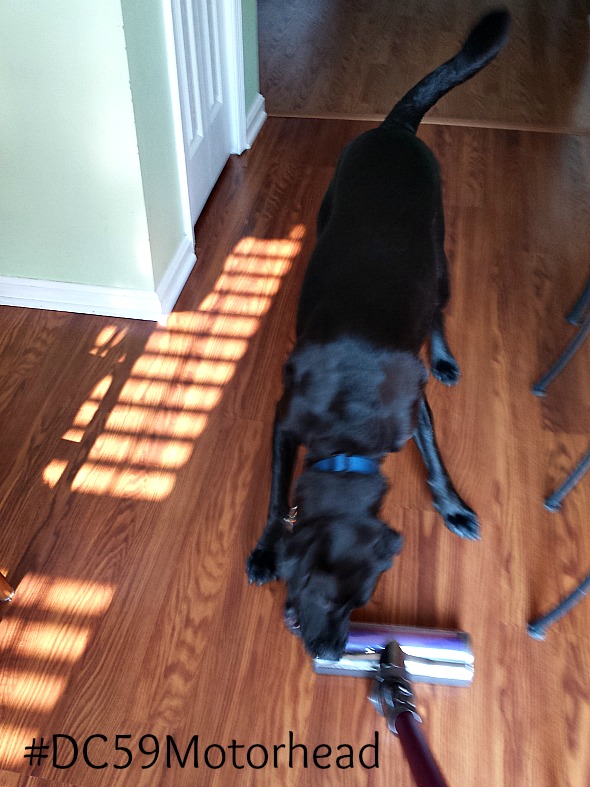 Dyson invests more than $2.5 million a week on research and development and has doubled the number of engineers employed at its UK research and development laboratories in the past two years. This dedication to technology and engineering makes them leaders in the market.