Breakfast is the most important meal of my day. I love having something special and delicious first thing in the morning like chocolate chip waffles or Nutella and banana pancakes. Basically I just like having chocolate and candy for breakfast. One of my favorite special breakfasts to have is monkey bread. Its essentially just biscuits cut up and covered in caramel sauce but it's one of the most delicious things you can have. One morning this week, I decided to make it for my family. There are so few ingredients you can almost always whip some monkey bread up in the morning. This recipe is adapted from Andrea Lynn, Salted Caramel Monkey Bread.
For the caramel:
¾ cup packed brown sugar
½ stick (1/4 cup) unsalted butter
¼ cup heavy cream
¼ teaspoon sea salt, not-optional
For the monkey bread:
1 cup granulated sugar
2 teaspoons ground cinnamon
3 cans (4.5-ounce) Pillsbury buttermilk biscuits
1 cup chopped pecans (optional)
1/3 cup melted butter
I had to run to the store in the morning to get heavy cream and biscuit dough but everything else was right there in my cabinets. There are two main steps to making monkey bread, coating the biscuit pieces and making the caramel. I cut up the biscuit dough into small chunks and shook them in a mixture of white sugar and a little cinnamon. I put them in a greased bundt pan and sprinkled a little bit of the leftover sugar on top. I also added some chopped pecans for extra goodness.

In a saucepan, I mixed a 1/4 cup of butter and 3/4 cup of brown sugar and 1/4 cup of heavy cream together. Then I added a good shake of sea salt and poured the caramel sauce over the biscuits. Then I baked it at 350 for 40 minutes until the biscuits were totally cooked.
Before it cools off, you have to flip the bread out on to a plate. The caramel will have melted and pooled at the bottom and will run down the sides of the bread and harden. It looks so delicious and tastes just as good. Just wait for it to cool down a bit and pull out chunks and enjoy.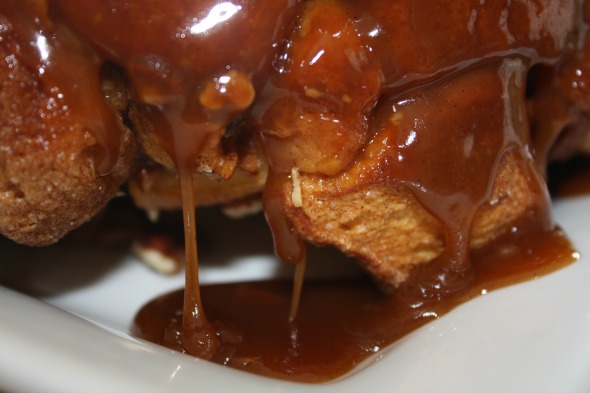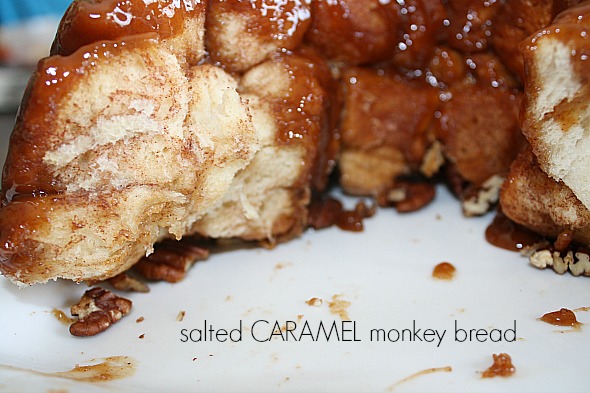 With our monkey bread in our laps, Shae and I cuddled up on the sofa and watched some My Little Pony, one of her favorite shows on Netflix. (and maybe one of the cutest cartoons ever.) I already miss spending time with her now that she's away at school. But we will always have great cartoons to watch together.