The New Year is here and I'm so excited for all of the new things that Netflix has coming out next year. Orange is the New Black Season 3 is coming some time in mid 2015. Hopefully the next seasons of Archer and Bobs Burgers will be out soon too. I know my sister is excited about the new show, All Hail King Julien, which is all about the King of the Lemurs from Madagascar.
There have been tons of great movies and shows on Netflix this year. We can expect new seasons of many of these next year so everyone needs to get caught up soon. These are the 15 shows and movies I think everyone should watch in 2015.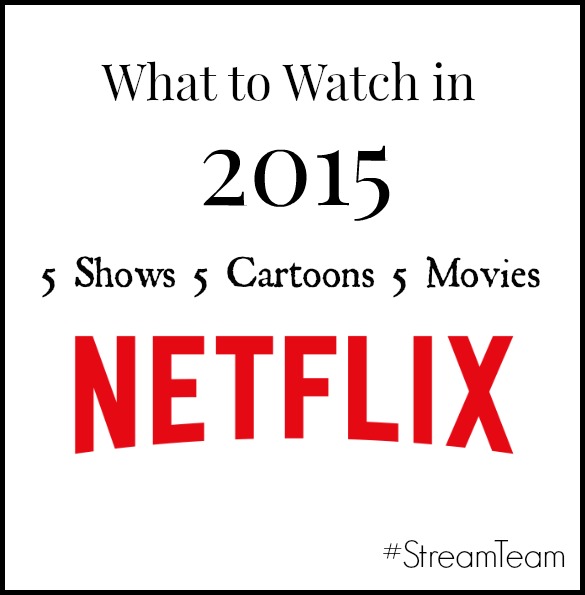 Shows
1. Parks and Recreation
My all time favorite show. With 6 seasons to go through, there is plenty to catch up on. This is a perfect show if you love binge watching and laughing and Chris Pratt.
2. Orange is the New Black
An amazing look into a women's prison based on an autobiography. Every character is developed and interesting and bring their own zest to the story. The best part for me is looking into the histories of the inmates and learning how their lives lead them to prison.
3. Criminal Minds
The best crime show ever made. Look into the minds of serial killers and learn way too much about the psychology behind murder. There are a ton of episodes to keep you occupied for weeks.
4. Walking Dead
Because it's currently on TV, Netflix isn't caught up completely but there are still 4 full season to watch. It's got zombies and excellent characters and an elaborate story, all of which make it a great show. There are four seasons to go through and the new one is usually added some time in the fall.
5. The Killing
This show was originally on television but was canceled before it was finished. Netflix picked it up for the last season and gave us an incredible finale. It's a crime thriller with tons of suspense but every seasons finale is incredible. This is a show I would highly recommend.
Cartoons
6. Archer
A weird concept with great execution; Archer follows a team of spies as they go on secret missions and also while they deal with dumb interpersonal conflicts. It's funny and really weird and everyone should give it a try. It might not be everyone's sense of humor but it could take some of you by surprise.
7. Bobs Burgers
This follows a family running a burger restaurant deal with low income and all of the other curves life can throw at you in a hilarious way. It shows events that are possible in real life but unlikely to actually happen to any sane person. They're hilarious and strange but it's an adorable show that anyone can laugh at.
8. Courage the Cowardly Dog
This is an older show from when I was a kid. It's really bizarre but for me it's a classic. It's also more for older kids because it can be a tad scary and disturbing at times.
9. The Grim Adventures of Billy and Mandy
Another cartoon from my childhood. The saddest thing to me is that all of the episodes aren't on Netflix but I'll take what I can get. This show is the definition of weird. The episodes don't go in order and they don't follow any kind of logic. It's a show about two kids who force the Grim Reaper to be their best friend forever and they meet all kinds of paranormal and supernatural creatures including a giant spider that thinks Billy is his dad and Count Dracula in his later years. Just watch it, I can't explain it.
10. Adventure Time
Your kids probably already watch this show. I did even before Netflix and I have a few seasons on DVD. It's adorable and fable-esqe with each episode teaching a lesson. But it also a lot of fun with adventures and monsters and a little bit of romance. This is a show mom and dad would approve of their kids watching. It also has a deep backstory which only the older viewers would be able to comprehend.
Movies
11. Silver Linings Playbook
It was Oscar nominated so you know it's great but I didn't hear a ton of buzz about it when it was in theaters. Even if you've already seen it, watch it again, it's a great movie about family and mental illness and how the two are related. And Jennifer Lawrence is in it and she's adorable.
12. Django Unchained
Not quite the same scope as the other movies on this list. It's a Quentin Tarantino movie so it's crazy violent but it's also incredibly funny. It's an all around great film that's a lot of fun for mom and dad. Definitely make sure the kids are gone when you turn this one on though.
13. Annie
Watch the original on Netflix and then go see the reboot in theaters. Both are terrific in their own ways and Annie is a great introduction to the world of musicals and theater for young kids.
14. Camp Takota
It's indie, it's adorable, it's all about friendship. It's just a cute story about a girl who gets cheated on so she heads back to her childhood camp for the summer; you know a classic storyline. But it is a lot of fun.
15. What Maisie Knew
My mom and I watched it together and we didn't know anything about it going into it but it turned out to be incredible. It's so sweet to follow this little girl through her life and her parents dysfunctional life and separation, remarriage and more. But it ends in a great (but odd) way and I enjoyed every minute of it.
You don't have Netflix? Let us change that for you. We have a 1 year subscription to giveaway to a LookWhatMomFound…and Dad too! reader. Let us know what you're looking forward to watching just from the list above.
EXTRA ENTRIES:
To receive these extra opportunities for entries, you must fulfill the first REQUIRED entry above. Please note the changes to the entries and frequency, entries that don't follow rules may be disregarded/ignored/deleted
SUBSCRIBE to LookWhatMomFound…and Dad too! via NEW Email Subscription.
COMMENT on a recent Review/Our Life/Our Travels/Our Thoughts post, let us know where to find it
FOLLOW @Melinda & @NetFlix on Twitter and TWEET this giveaway (1 time per day), please leave your twitter link each time: What to Watch in 2015 on @NetFlix plus 1yr Subscription #Giveaway from @melindababiak http://bit.ly/1Ila4qA 
SHARE this giveaway & below image on Google +, leave your link in comments below
SHARE this giveaway & below image on Pinterest, leave your link in comments below
SHARE this giveaway & below image on Instagram, leave your link in comments below
SHARE this giveaway & below image on Facebook, leave your link in the comments below
Your entries must follow the rules or they won't be eligible for prizes. This contest ends 11:59 pm, Tuesday , January 27, 2015. The winners will be emailed and will have 48 hours to claim their prize. This contest is open to Contiguous US residents, age 18 or over. For complete rules please read our blog contest rules page.