As a working parent the looming summer is bearing a heavy burden on my shoulders.  We're set up with the pool membership, my mother has retired and plans on doing activities with the kids, my oldest is changing her work schedule so she can have more fun this summer instead of working all day.
But what about the dreaded "brain drain". In my opinion summer should be fun.  Not full of assignments and reports but there also has to be some stimulation of the mind that DOESN'T come from video games. This is where Summer Camp comes in.  Camps give kids a bit of structure in the middle of summer chaos.  The schedule and organization is reminiscent of school but definitely with MORE fun and creativity involved.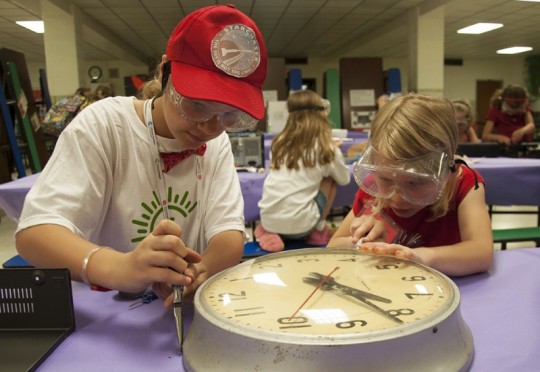 This year marks the 25th Anniversary of Camp Invention, the nation's premier summer enrichment day camp with a focus on Science, Technology, Engineering and Mathematics (STEM) with hands on activities.  These young minds are exposed to innovative giants such as  National Inventors Hall of Fame (NIHF) Inductees, United States Patent and Trademark Office (USPTO) representatives and high-profile educators. Each year embarks on a new adventure and program. 

For 2015 Camp Invention brings to its campers "Illuminate".  This year's program will encourage students to explore their inventiveness through an innovation laboratory, investigation of circuits and taking on a nature-inspired design challenge. As they build and make discoveries, they will have a chance to invent a prototype from scratch and explore math from a new angle when they create origami flight models during team-building exercises.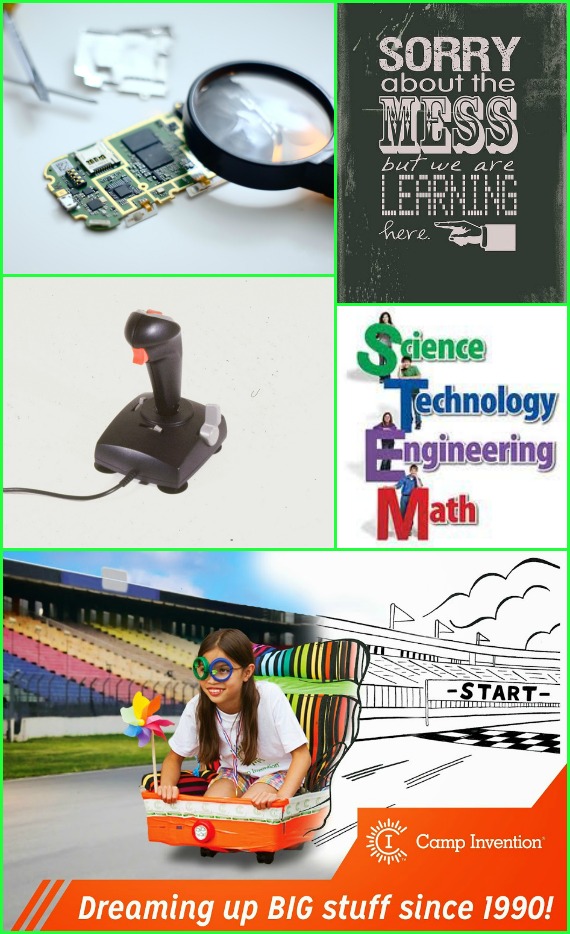 This year Shae will be a camper and Shaun will be a counselor in training with Camp Invention/Invention Project. This will be their first experience with summer camp and its gonna be amazing.
I want your child to have an amazing summer too!  We're giving away a camp registration for a local chapter of Camp Invention in your community.
This year The Illuminate curriculum features five energetic and fun-filled modules that include:
Inducted – this module will introduce your child to innovation role models and give them a first-hand account of what it takes to make their mark on the world and get into the National Inventors Hall of Fame.
Design Studio – Children will be empowered to explore their creativity in our innovation laboratory, where they can design their own invention, investigate circuits or take on a nature-inspired design challenge.
I Can Invent: Next Level Gamers – No matter if your child is an avid video gamer or plays occasionally, they will love the opportunity to help the Camp Invention Gaming Labs come up with the next must-have video game called MazeWorld.
KartWheel – Future engineers will love the opportunity to create a freestyle race kart that can withstand water and navigate the ultimate wet terrain obstacle course – all while designing in the outdoors and getting some exercise.
M.O.V.E.: Motion, obstacles, variety, excitement – Our campers are movers and shakers and we want to encourage them to use that momentum in our kinesthetic learning module! Participants will use their imagination as they reach for the stars and get in motion, overcome obstacles, make variations to classic games and build excitement during this activity!
Are you excited?  Enter today by telling me WHY this type of camp would benefit your child.
EXTRA ENTRIES:
To receive these extra opportunities for entries, you must fulfill the first REQUIRED entry above. Please note the changes to the entries and frequency, entries that don't follow rules may be disregarded/ignored/deleted
SUBSCRIBE to LookWhatMomFound…and Dad too! via NEW Email Subscription.
COMMENT on a recent Review/Our Life/Our Travels/Our Thoughts post, let us know where to find it
FOLLOW @Melinda &  Camp Invention on Twitter and TWEET this giveaway (1 time per day), please leave your twitter link each time: There's time to register for @CampInvention, Better yet! Enter to WIN a week of enrollment @melindababiak http://bit.ly/1EXtfo9
SHARE this giveaway on Google + or Instagram, leave your links in comments below
REPIN great content from Camp Invention's Pinterest Account, leave your link in comments below
SHARE your thoughts about enrolling your child in Camp Invention on their Facebook page, leave your link in the comments below
Your entries must follow the rules or they won't be eligible for prizes. This contest ends 11:59 pm, Friday, May 29, 2015. The winners will be emailed and will have 48 hours to claim their prize. This contest is open to Contiguous US residents, age 18 or over. For complete rules please read our blog contest rules page.