So I can't believe I am saying this but Winter Is Coming which means it's time to get ready for the freezing temps and possible snow.
Believe it or not I don't mind the cold weather or the snow to some extent.  I like snow here and there but I'm not a huge fan of the snow storms that dump inches upon inches of snow.  Part of the reason is because I HATE shoveling, I know who doesn't hate it.  I know it's great exercise but I always do to much and my back the next day reminds me of that.  I do have Shaun who is a strapping 12 year old that can also shovel in my place but I still feel like I should help out.
This year will be the first year ever where I fell well prepared for the snow since I just received the Snow Joe 18 inch 40-volt lithium hybrid snow blower.  I am pretty excited because I have never owned a snow blower in my life and I am sorry for saying this but I want at least one snow fall so that I can use my new snow blower.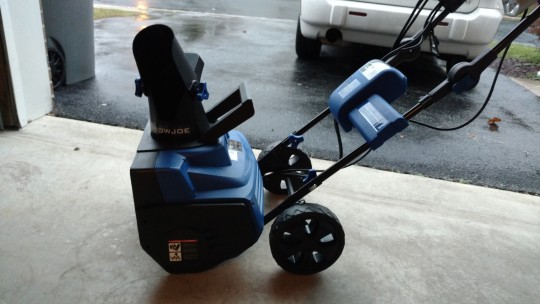 When it arrived at my house I was pretty excited to put it together right away even though it was October and I knew snow wasn't coming for another few months.  Right out of the box the iON Hybrid Snow Blower was super simple to put together and it took less that 10 minutes total to get it working.  I'm pumped that it runs on a 40-volt lithium battery as well as electric instead of gas because that will make it way easier to use and Shaun who is 12 will be able to use it as well without me.  I am trying to get away from gas equipment mainly for the simplicity of battery operated ones.  I dont have to worry about having gas and oil and everything else that comes along with it.  With a battery operated snow blower all I need to do is make sure the battery is charged, push a button hold down a lever and I'm off to the races.  I also have the ability to use an extension cord if I want but I feel that the battery will be just fine as it says you should get up to 50 minutes of use on a charge.  We don't have a huge driveway or sidewalk so that should work just fine.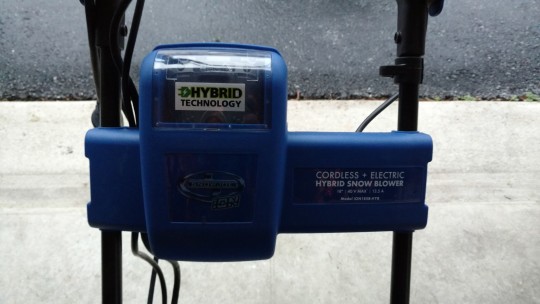 Let me list of the the features of the snow blower for you people who know and are interested in all of this good stuff:
Lightweight design to easily clear sidewalks, driveways and decks
40-Volt 4.0 Ah eco sharp PRO rechargeable lithium-ion battery provides up to 52 minutes of whisper quiet runtime and is compatible with all iON tools
No pull cords, gas, oil, tune-ups, carbon emissions or tangled extension cords
Steel auger with 2 rubber blades moves up to 500 lbs. of snow per minute; cuts a path 18 in. W x 8 in. deep without damaging surface
180° auto-rotate directional chute throws snow up to 20 ft.
3-Watt LED headlight provides increased visibility for nighttime snow removal
Powerful 500-Watt brushless motor increases battery efficiency, maximizes motor performance, decreases noise and vibration and extends motor life
Contains electric capability for unlimited clearing time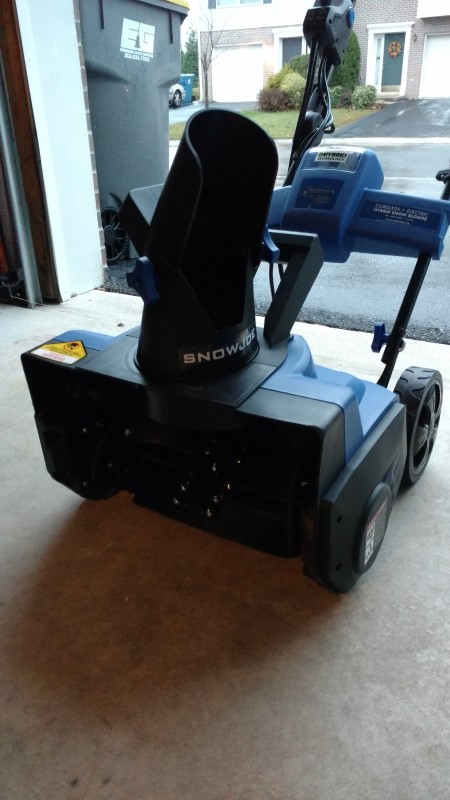 Not sure how much snow we will receive here in Delaware this winter but I am ready for whatever mother nature throws my way especially with my new Snow Joe snow blower.  Be on the look out later in the winter for a few more reviews especially after I get a chance to move some snow around.