Each year I struggle with some of the same few people on my shopping list; Rob and my Dad. Both of them need nothing. Both of them get the things they want and need througout the year so gift giving ends up being a game of frivolous versus tear jerker.
My dad is sentimental so anything that can possibly make him cry is a win. It's often a contest between me and my sister on who can make him cry on Father's Day.
Rob has a sentimental streak too but he loves more useful items too. He likes to tinker and game and have great shoes and loves watches.
Here is a list of my best gift giving ideas for every man in your life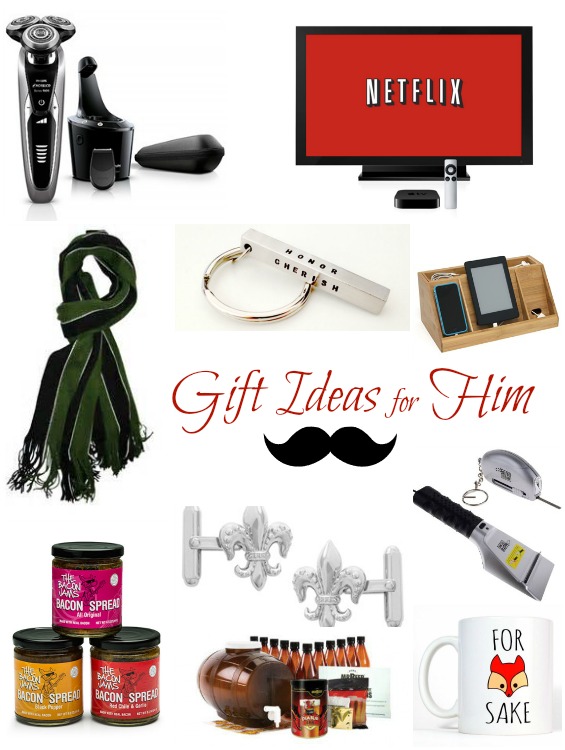 Cufflinks
Every man deserves at least one pair of cuff links. Regardless if he's a stock broker or a mechanic the opportunity may arise one day they he needs to wear cuff links.  Make them personal with his initials or special shape.
Even if he isn't a brew master maybe this is the kick he needs to start a new hobby.
Scarf
Keep it simple. Men don't need chunky knits or bold patterns or embellishments. Gift something soft and neutral to go with jeans or a suit jacket. Find something that will last and remind him of who gave it to him each time he wears it.
The Perfect Mug
Whether he needs it for his desk or on the go find the perfect mug for his coffee, tea or bourbon to complete his drinking ritual.
Need I say more?  Everything is better with bacon and these spreads, these specific spreads are delicious. We buy them and add it to grilled bread, burgers and baked potatoes. The Black Pepper is MY favorite.
Charging Station
With all the tech at our disposal it's only smart that we help him keep everything neat and tidy. A charging station keeps phones, tablets, cords and wallet at his fingertips ready for use.
Help him tame his facial hair with the Philips
Norelco
Shaver
9000. Smooth skin can be achieved with the right shaver and this one works at home or on the go.
Netflix Subscription
We use Netflix on a daily basis. It's a great way to catch up on favorite shows or discover new ones.
Heated De-Icer
This only applies for those that live in areas that get snow.  But for those that DO get ice and snow this is a miracle. Make his job of cleaning off the cars easier.
Personalized Keychain
For the sentimental guy, gift something that he'll treasure and use daily. Engrave anything from a guitar pic, cross to dog tog with a message of your choice. My shopping advice for this is Etsy.
These are just a few ideas of my own that the guys in my life would enjoy.  Take them and spin them into something that fits for the men you love.  What's on your shopping list for those special men.
Please know that some of these ideas are my very own, some are recommended by brands that I work with and some are items we actually pay for all on our own. This post is my opinion 100%.