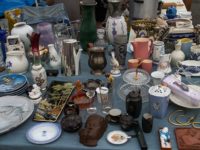 Going to the flea market can be a fun and family-friendly way to spend a morning or afternoon. It's also a great way to pick up some really killer steals on premium, hand-crafted items, such as furniture, lighting, rugs and more. One of the things that most people forget, or don't realize, about flea markets is that prices don't really exist. A flea market is an old world, bazaar-style marketplace that is a throwback to the days of the barter system.
You can get some really super deals on great products, as long as you know how to haggle. Haggling is essentially a negotiation, between merchant and buyer, over a price that that lets both parties can walk away from the transaction satisfied.
Here are a couple of bargaining tactics that you can keep up your sleeves to ensure that you get the best deal possible on all items you get from a flea market!
Indoor vs Outdoor
While you are likely to find great deals on many items, there is a difference that exists between outdoor and indoor flea markets. Namely they are dependent on your particular region, climate and what season it happens to be – for example, if you live in the Midwest and want to go thrifting during the winter, you are going to have to find an indoor flea market. Whereas in balmier areas, you would need to find one that is outdoors. There are a variety of directories you can use to find indoor flea markets in your area if you don't know where to start.
Put Your Poker Face On
Even if you spot the item that is exactly what you were hoping to find – do not act overjoyed. This signifies to the merchant that you really want this item and may cause them to hold firm on a set price. Pick up the item, note the price, then continue looking at the other items. After a little bit of feigned perusal, come back to the item and quietly express your interest.
Know Your Price Ceiling
Before beginning the bargaining process with the vendor, know how much you are willing to spend on the item and stick to it. Being firm in your price ceiling will make you appear confident to the vendor about how much you are willing to pay. The vendor will most definitely have a number in their head about how low they are willing to go on an item. Haggling is all about finding that sweet spot between your price ceiling and the vendor's lowest sale cost.
Go Low, But Not Too Low
Your starting offer should be around half of what you are actually willing to pay for it – then the merchant will give you his price, which will be lower than the original ticket price. Be prepared to go back and forth with the merchant a few times, you will eventually find the sweet spot.
However, do not insult the merchant by going too low right out of the gate. Also, when you begin engaging the merchant in haggling, they assume that you are eventually going to make a purchase. If you are not positive about wanting to make the purchase, do not engage the merchant.
Hesitate
Many flea markets will be the home of some premium used or hand-crafted items, but If you see any flaws – don't be afraid to point them out and hesitate about the price. Use damages to your advantage! If you're stuck in a standstill with the vendor, be sure to point out the chip in the woodwork.
If the vendor's final offer is still too high, hesitate and look worried. Then say that you're going to look around and think about it – this will likely cue another round of bargaining by the vendor. Remember, they don't make money by not selling anything.
But, the most important rule of all is to have fun! Don't feel too defeated if you don't get the item at exactly the price you were hoping for – it's all part of the game!